David Goldberg, Surveymonkey CEO and husband of Facebook Chief Operating Officer Sheryl Sandberg, has passed away suddenly aged 47.
His passing has sent a wave through the technology sphere as his family, friends and colleagues come to terms with the news.
While exact details of his passing have not been released to the public, reports are surfacing that the tragedy occurred while the couple were travelling abroad after a Facebook post from Mark Zuckerberg emerged that was allegedly sent to Facebook employees.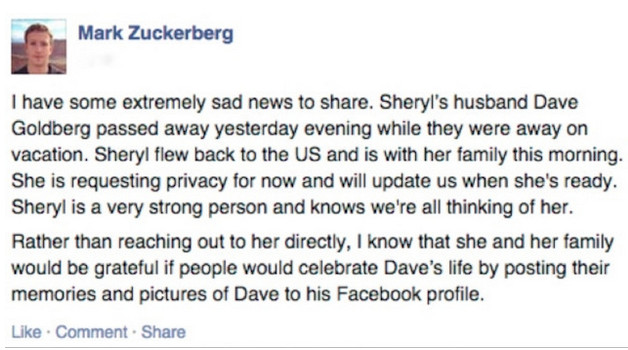 Goldberg's brother, Robert, took to Facebook to break the news with a moving statement that has already been liked by over 6000 people.
"It's with incredible shock and sadness that I'm letting our friends and family know that my amazing brother, Dave Goldberg, beloved husband of Sheryl Sandberg, father of two wonderful children, and son of Paula Goldberg, passed away suddenly last night," it reads.
"In this time of sorrow, we mourn his passing and remember what an amazing husband, father, brother, son and friend he was. No words can express the depth of loss we feel, but we want his children to learn how much he meant to all of you. In lieu of donations, we want to celebrate his life in a manner that respects the family's privacy as they cope with this tragic, life changing event: Sheryl, their children, and our family would be grateful if people would post their memories and pictures of Dave to his Facebook profile."
Facebook CEO Mark Zuckerberg was quick to share the status and add his own message of condolences.
"Dave Goldberg was an amazing person and I am glad I got to know him. My thoughts and prayers are with Sheryl and her family. I hope friends will join me in celebrating his life by sharing your memories of Dave on his proflle, as his brother Rob suggests."
SurveyMonkey has also released a statement.
"Dave's genius, courage and leadership were overshadowed only by his compassion, friendship and heart," SurveyMonkey said in a statement. "We are all heartbroken.
David is survived by wife Sheryl and their two children.
Want more? Get more from Kyle & Jackie O!