After large dust storms swept across western parts of NSW last week and reached some parts of Sydney, it's believed that conditions could stir up again – and this time, the CBD is in the firing line.
Not since 2009's 'Apocalypse' has the city been inundated with dust, but it's feared that drastic weather patterns may see a repeat sooner rather than later.
During September 2009, a dust storm in Australia tinted Sydney and Brisbane an intense red-orange color. The dust plume measured more than 310 miles in width and 620 miles in length, making it so large that the cloud was visible from space. pic.twitter.com/QmfFTlnJa5

— SERIOUSLY STRANGE (@SeriousStrange) May 4, 2018
It's believed heavy winds across drought-ravaged parts of western NSW could pick up dust – and loads of it.
NSW Bureau of Meteorology is monitoring the situation closely.
If we are to experience another extreme dust storm, the Department of NSW Health will advise people with respiratory problems to stay indoors.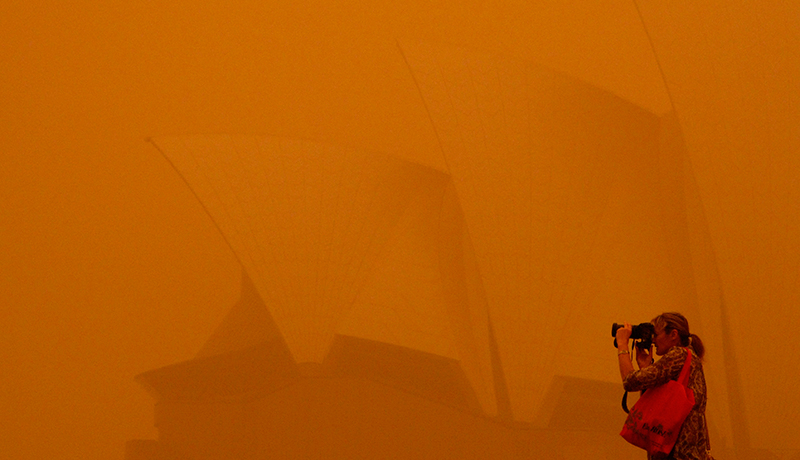 A spokesperson for NSW Health says, "Fine dust particles can irritate lungs, so it's wise for people in the affected areas in western NSW to stay indoors or reschedule or cut back on prolonged or strenuous outdoor activities during dust storms.
"People with chronic heart and lung conditions who develop symptoms such as shortness of breath, coughing or wheezing, should follow their Asthma or Chronic Obstructive Pulmonary Disease (COPD) Action Plan.
"If symptoms do not settle, seek medical advice. In case of emergency always remember to dial triple zero."
Love this? You'll love this bit from Will & Woody – catch the boys weekdays from 4PM on KIIS 1065