Remember Nadine?
No? I think she was evicted in like episode 1 on this season of The Bachelor.
And you know what? Good for her, it's been an absolute mess of a season.
I don't know what sort of contract she signed but clearly she doesn't give TWO HOOTS about what she's revealing because she's posting huge spoilers on her Instagram at the moment.
People have apparently been messaging her asking who wins, because everyone has money in the Bachie pool right now and Nadine decided to oblige…
"I just want to clear things up, for those people who are asking about who wins as I know people are placing bets. To clear things up, I was told by several people that Bella wins."
She wrote in her story, what an MVP, Nadine's really out there trying to help people win a bit of money gambling.
She went on to say, " I did however state that it is between Irena and Bella. They are def top two. However, who actually wins 100% I can not possibly predict that as I am not god. From what i have been told it's Bella. So please if you're going to place bets, gamble responsible as I don't want to be the blame for anyone losing money. And as I have said to all the people who are betting, I would bet on both evenly to be safe."
She's even giving gambling ADVICE! This is too good.
Nadine then re-grammed her own story with a small addition on the bottom.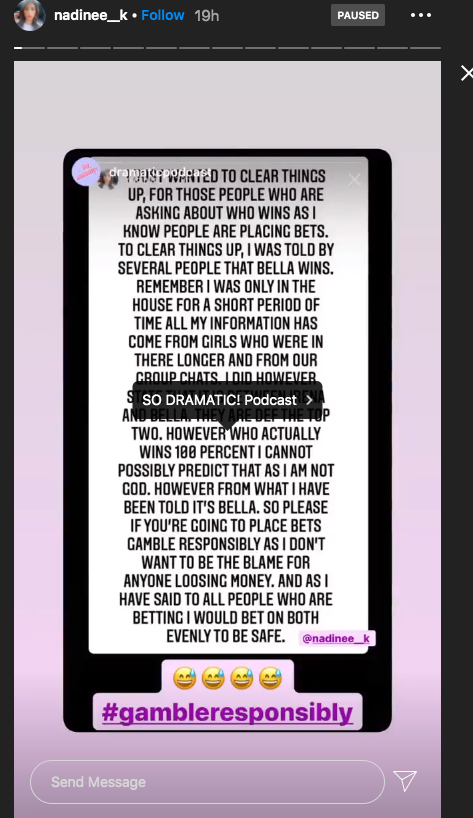 #gambleresponsibly
Well said, Nadine, well said.
Make sure you're not missing out on ANYTHING from the Kyle & Jackie O show!
Love this? You'll love this bit from Will & Woody – catch the boys weekdays from 4PM on KIIS 1065