The 19th annual Splendour In The Grass returns to its forever home at North Byron Parklands from Friday 19 to Sunday 21 July, serving up one of the biggest and boldest music and arts moments to hit your calendar in 2019.
Look what we're whippin' up! Over 100 of the world's most exciting, provocative and seminal musicians alongside a crew of revered homegrown talent will descend upon Splendour in the Grass to light up the Amphitheatre, Mix Up, GW McLennan and Tiny Dancer stages this winter. Rap royalty and hip-hop heavyweights collide with boundary breaking rockers, RnB bosses and psychedelic visionaries. You want it? Splendour's team of 2019 has got it.
Take off into the Splendour universe and you'll uncover so much more than music. A cosmos of cool, crazy and captivating adventures awaits you at North Byron Parklands…
Discover underground sounds and bass-heavy jams at THE TIPI FOREST! Play amongst the tipis and let the best purveyors of the drop keep you moving as psychedelic lightscapes transform the world around you.
Jump ship to THE GLOBAL VILLAGE, where you can sip on kombucha or spicey chai, foresee the future with a tarot card reading, indulge in a massage or limber up pre-mosh with a yoga class! Leave the passport at home but be sure to make your way to THE WORLD STAGE to hear diverse sounds from all corners of the globe.
Save your podcasts for the daily commute and instead hear from some of the most provocative and forward-thinking humans around at SPLENDOUR FORUM, which returns for another home run of inspiring and thought-provoking talks and panels in 2019. Then, take a load off at THE COMEDY CLUB, as some seriously sassy comedians serve you up a fresh bowl of LOLs each evening.
Flex the left side of your brain in THE SCIENCE TENT. Back for another explosive year in 2019, prepare to go full mad professor as you dive into a world of mind-blowing talks, revelations and experiments.
Relax and un-twine at SPLENDOUR IN THE CRAFT! Splendour's home of hot glue guns and eco-glitter is back with a series of hands-on workshops where you can flex your makin' muscles. Take some time out from the tunes to hang with some of Australia's premier craft freedom fighters at a series unique making moments.
Just here for the snacks? Check out the three food halls dotted around the site, or The Truck Stop, where punters can rest up and enjoy a delectable array of street-style eats designed to satisfy any craving. Wanna get on the sauce? Whether you're after a beer, a bloody Mary or a bubbly, there's myriad watering holes dotted around the site to be discovered!
If you made it to Splendour 2018, you probably 'grammed the shit out of Cool Shit's inflatable Snoop Dogg Hot Dogs or got down and dirty with The Cleaners art installation. More boundary-bending SPLENDOUR ART is waiting to be uncovered this year, including the Amish Barn like you've never seen it before!
From the sandpit to the moshpit, Splendour in the Grass has the whole tribe sorted when it comes to living your best festival family life. LITTLE SPLENDOUR is the ultimate pint-sized festival playground, designed for the young and young at heart! There's DJ Skool, workshops, rock climbing and dress ups galore and a babysitting service so you can catch a break! And when it's time to hit the hay, The Meadow is the place to go! Splendour's designated family friendly campground is tucked away from the rest of the campers so you won't have Darren the wannabe DJ dropping bangers when you're ready to hit the hay.
This year we have some exciting new ticketing options on offer that we hope will provide more flexibility around your Splendour experience. In line with other major music festivals around the globe, and to help make the festival accessible to as many music lovers as possible, Splendour punters will now be able to purchase tickets on a payment plan. Please be sure to read the terms and conditions before you purchase.
And if you're up for living the high life then Splendour's new VIP Village is going to be your festival home away from home. Check the website for more details about how to do Spendour 2019 in style!
When it's time to recharge the battery, camping onsite is your ticket to the full Splendour experience and we have a variety of options available. The camping area closest to the event site is vehicle free but you can camp with your wheels in other areas. For the time being you only need to purchase your event and camping ticket. You'll be able to choose where you want to park your rig when vehicle passes go on sale.
Onsite camping is available for up to 5 nights, with early entry into the campgrounds available from Wednesday 17 July, so bunk in for an easy and affordable way to experience Splendour. Travelling from afar and not keen to lug your tent? Pack light and book yourself into Flash Camp, Tent City or Byron Bay Camping Hire. Bringing the kids? The Meadow, our family friendly campground is the place for you!
If you're being dropped off at the festival each day, please be sure to use the drop off points inside the venue only. Tweed Valley Way and the Pacific Highway are no-go zones, please be safe and stay off busy roads.
The 2019 Splendour app is now available to download or update. Head here for iPhone and Android.
Alright, alright. Get ready to spend your Splendour weekend with: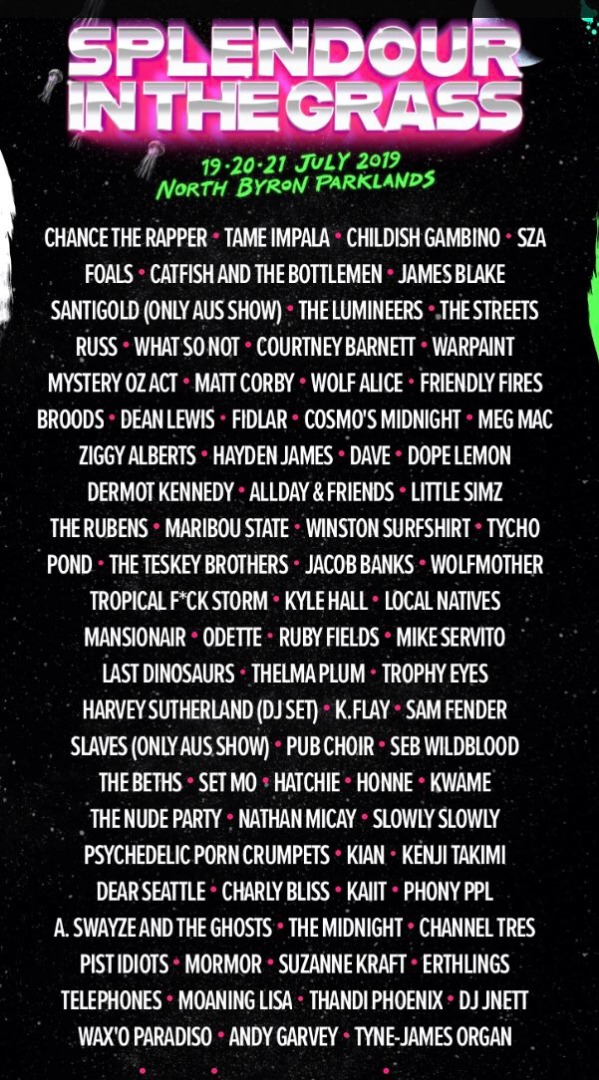 Splendour 2019 takes place at North Byron Parklands from 19-21 July.
Love this? You'll love this bit from Will & Woody – catch the boys weekdays from 4PM on KIIS 1065