Shoppers are disappointed with the new Woolworths Rewards card, but one woman has a trick that can really save you lots.
All rewards programs are data-harvesting tools, with the big supermarkets tracking the way you shop to help them tailor marketing towards you, as well as other things.
If they notice you haven't used your card in a while, Woolworths will often try to lure the customer back with a special offer or discount (tailored to you).
A woman named Lisa, told news.com.au of her simple way to beat the system – she uses two cards.
"Woolies recognises when you don't shop there and tries to win back your business by giving cash offers," she said. "I generate this by having two Woolies cards and alternating them depending on which one is giving me cash back."
"It works for me and I've not lost out on Woolies Dollars as a result with the card change," she said. "They keep falling over themselves to send me '$20 off your next shop' offers."
Lisa, a chartered accountant, said since there was a Coles nearby, she only went to Woolworths if she had an offer on one of the cards.
"I've got a pretty well-paying job, we just scrimp because my father went bankrupt when I was young, so we've always been that way," she said.
And she said she "[doesn't] give a s*** about whether it's got an orange ticket or not". "I just buy stuff when it's on sale. The deals are the money you get in the emails. If I don't get anything from Woolworths in two weeks I just go to Coles."
Although, the offers don't come consistently, as Lisa told news.com.au that sometime they'll send out a blanket offer to all rewards card holders who have used their card in over 30 days with "$20 off if you spend over $80", and other times they might target individual shoppers specifically, with deals on their favourite products.
"If I do a big shop two weeks in a row using the same card, I don't get the emails," Lisa said. "It's amazing the stuff you can get by not actually doing that much."
The low-earn rate of the card has been the major downfall in the popularity of it, according to Scott Mate's viral Facebook post, complaining about it.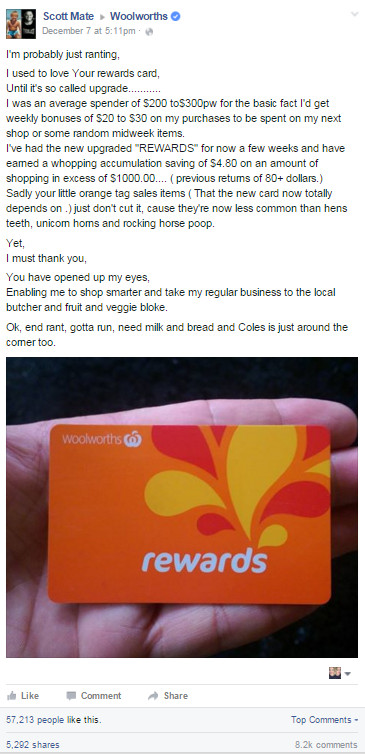 According to research by the Monash Business School, commissioned by Woolworths, the average grocery shopper spending $108 per week will earn around $10 roughly every 7.4 weeks on the program.
And if you can score yourself a $20 bonus every two weeks, that works out to $74 over the same time frame.
But if you scam the system with two cards you can save more than seven times the amount than if you just used one.
Hmm… The more you know!
Source: news.com.au