This will go down as one of the biggest moments of the 2018 iHeartRadio Music Festival.
Opening the second night of the festival, Justin Timberlake brought out a very special guest… Shawn Mendes!
Mendes joined Timberlake on stage to perform "What Goes Around" with him and it was pretty incredible (to say the least)!
"He's one of the coolest cats I've ever met," Timberlake said of Mendes, bringing the stadium to a standstill. He went on to call the 20-year-old singer a "talented young man," and that he wanted to do something extra special.
Mendes was obviously ecstatic to be performing alongside one of his legends, citing Timberlake as one of his biggest influences. When he released 'Lost in Japan' off his self titled album 'Shawn Mendes,' Mendes revealed in an interview that he was listening to Timberlake's music when he wrote that particular song.
"I had this dream that I was lost in this country and I woke up the next day and we had this cool piano part and the song was birthed," he said of the track.
When their duet finished, Mendes and Timberlake shared a brotherly hug that had the crowd – and us – cheering.
This is the duo we've been waiting for! 😍❤️ @jtimberlake @ShawnMendes #iHeartFestival

👉 https://t.co/BDJSWLPo87pic.twitter.com/7v7cBjTR4e

— iHeartRadio AU (@iHeartRadioAU) September 23, 2018
Timberlake then wrapped up his set with an electrifying rendition of 'Can't Stop The Feeling.' He also performed a slew of hits from his impressive repertoire, including 'Sexy Back,' 'Man of the Woods,' and 'Cry Me A River.'
What did we think of this collaboration? This is what the iHeartRadio Music Festival is renowned for!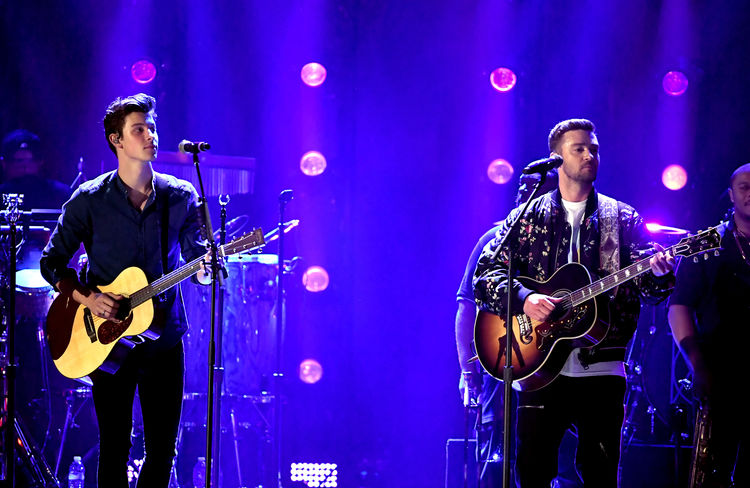 Want more? Get more from Kyle & Jackie O!