Kat Von D's beauty range for makeup chain Sephora is causing outrage over a lipstick titled "Underage Red."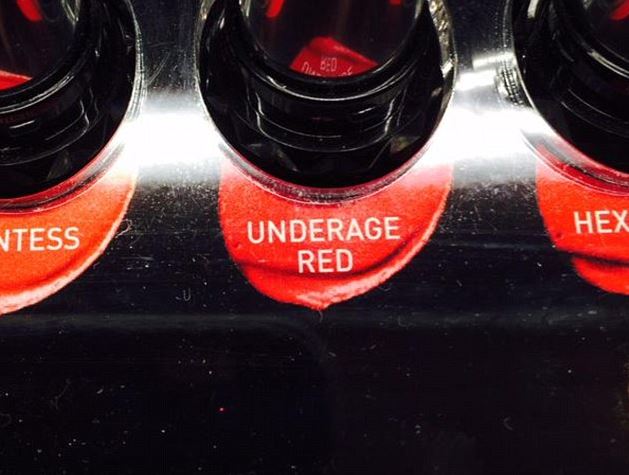 People have been expressing their anger online saying things like, "JESUS do they have a whole sex offender line?"
Another person said, "Lipstick named by creeps."
"Underage red"? What the hell, Sephora? (good find @ParkerMolloy) http://t.co/RUrZHbvSFW pic.twitter.com/aPMUee4aHi

— TouchVision (@TouchVisionTV) March 17, 2015
sephora has a lipstick shade "underage red" REALLY?? call it "ketchup" "blood of my enemies" "spider-man red" or "pink 2.0" honestly

— hipster starlord (@IZZYSHAW7) March 17, 2015
Why can I still buy "under age red" lipstick on your website @Sephora? I can accept a misstep, but, time to pull it. pic.twitter.com/6X7ZsLUzWT

— Lyndsay Kirkham (@HisFeministMama) March 17, 2015
.@Sephora 'Underage Red'?! Women and girls deserve better. Joining @RepresentPledge & #NotBuyingIt

— JosieEllen (@Josie_Ellen) March 17, 2015
Sephora has said that the lipstick is actually a cult favourite with customers. It is described as a "matte fire engine red."
Love make-up, but never found a red lipstick that worked with my skin tone until @thekatvond's "Underage Red". Gracias!! #lipstick #Sephora

— Lindsay Heller (@TheCigarChick) January 4, 2013
Other people who are fans of Kat Von D's have been seeing the "funny side" to it.
Everyone's making a big deal because Kat Von D released a new lipstick named "Underage Red" & Sephora is selling it. Who cares?!

— © (@LifeOfAMrs) March 17, 2015
What do you think, is the name inappropriate?
Love this? You'll love this bit from Will & Woody – catch the boys weekdays from 4PM on KIIS 1065