While Selena Gomez's very public lash-out at Justin Bieber on Instagram was more than a little pass-the-popcorn for us, it was apparently the final straw for her loved ones.
Sel's family and friends are worried that her non-stop, round-the-world Revival tour is taking its toll on her energy levels and she's struggling to deal with the stress.
And the huge emotional fall-out from the Justin situation – him accusing her of cheating on him with Zayn Malik, her accusing him of cheating on her with a number of unnamed women and him quitting Instagram in spectacularly tantrum-like fashion – has left Selena with a shed-load of guilt.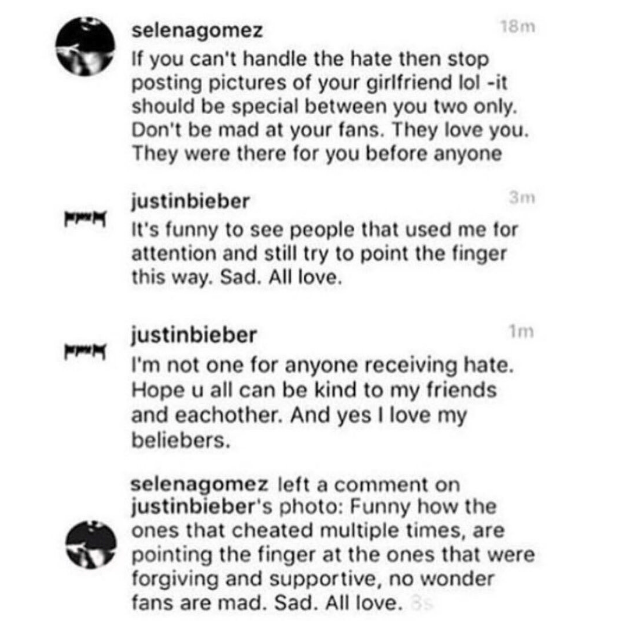 A source told The Sun: "Justin and Selena's relationship is notoriously rocky and it hasn't been easy to see him move on so publicly with Sofia.
"But Selena is used to seeing him with other women – it's the combination of being over-worked and under pressure.
"She's been touring for four months non-stop and won't rest until mid-December with her Revival tour still to hit Europe and South America.
"There's real concern and the plan is to talk to her in the next few days to ask her to consider taking some time off."
Selena had to take some time out in 2014 after being diagnosed with lupus, an autoimmune disease disease that can cause chronic fatigue, painful joints and fevers, and checked herself into rehab in Arizona to give herself some time out.
And, paired with her emotional Instagram post from last month where she admitted to feeling "extremely unauthentic, unconnected to both myself and my music", Queen Sel's family and friends may be right – it could be time to take a step back.
Love this? You'll love this bit from Will & Woody – catch the boys weekdays from 4PM on KIIS 1065