So Sydney.
Sydney-based art director Jarryd Zankovic, 28, has been labelled "Australia's biggest wanker" on social media after appearing as a feature in a magazine.
He discusses his personal style in the interview, which was conducted by B&T Magazine, complete with a photoshoot profiling the most stylish people in advertising.
In the article, titled "Industry Fashionista", Zankovic calls himself a "hybrid between beauty therapist and tradie" and mentions that he is of the "Surry Hills mould".
He also mentions his style is "effortless" and also implies he is… ahem… Well endowed…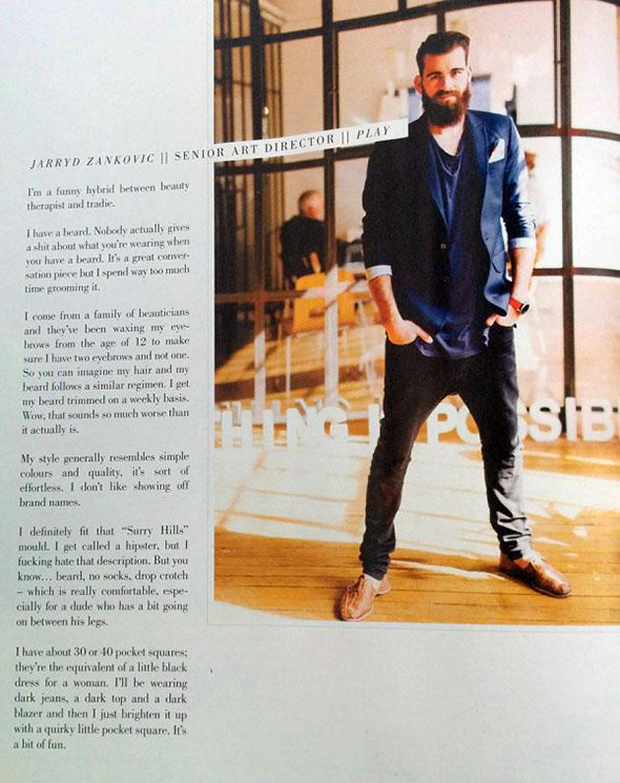 The 28-year-old, from Wollongong originally, now lives in Surry Hills, and describes his extensive haircare regime in the interview.
He apparently comes from a family of beauticians who have been waxing his eyebrows since he was prepubescent… He gets his beard trimmed once a week… And apparently, "that sounds so much worse than it actually is."
Zankovic has been mocked mercilelessly for his comments on social media – with a post on Reddit with the title, "is this Australia's biggest wanker?"
Since the article went viral, Jarryd's workplace has hit back –
"We were surprised by the tone of the article – it certainly doesn't reflect Jarryd's nature at all – he's a great guy who's both talented and grounded," they said. "Although he's always well-groomed, more than anything he was having a laugh at himself and general stereotypes – some things have been taken out of context."
Love this? You'll love this bit from Will & Woody – catch the boys weekdays from 4PM on KIIS 1065