A US woman posted maternity photos of herself 35 weeks pregnant to her Facebook profile, but received nasty comments from her family and friends.
Brittany Anne Dykstra, 25, posed in a shoot called The Honest Body Project, for photographer Natalie McCain.
Natalie started the project to end body-shaming.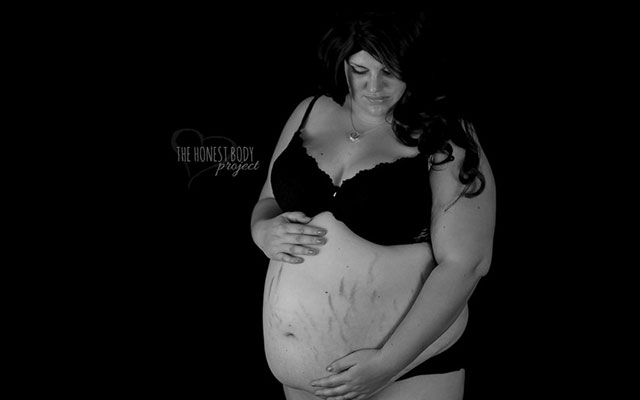 Brittany told her story on the website:
"I'm 35 weeks pregnant, and just last week I had maternity pictures taken to celebrate this horrible, but beautiful pregnancy.
"For the first time in about 35 weeks I felt beautiful, and was so excited to share this moment with my friends and family.
"Later that day we got the sneak peak pictures back and I posted them on Facebook thinking my friends and family would think I was beautiful and would love them, however that wasn't the case.
"All I received were negative comments about how huge I am, about how unhealthy I am, and about how they think my baby is going to be a 10 to 12 pound baby by the looks of how much I weigh.
"I literally went in the bathroom and cried for hours. It's so hard being plus size, pregnant, sick, and getting negative comments about the way I look.
"If I'm happy and accepting of my body, why can't everyone else just be happy for me?!"
"Let's face it, making a human being is so hard and we deal with enough stress and body changes, we don't need or deserve strangers, societies, or others negative comments about our bodies during this time.
"We need to support and embrace our beautiful curves."
Since Brittany's story was shared on The Honest Body Project's Facebook page, it has gathered over 46,000 likes and almost 10,000 shares…
Images via Violet Joy Photography (top image) and The Honest Body Project.
Love this? You'll love this bit from Will & Woody – catch the boys weekdays from 4PM on KIIS 1065