She was here five years ago, but really, instead of visiting Australia, it's more like Pink returned home.
I mean, c'mon, the fact that she and her family, husband Carey Hart and daughter Willow, 7, and Jameson, 18 months, just got back from Bali is more proof that she really is just one of us.
Her last tour – The Truth About Love tour – is still the biggest-selling tour by a solo female artist in Australia. She outsold Adele and Taylor Swift.
So Pink had some big shoes to fill. Namely her own.
Kicking off the Australian leg of her world tour at Perth Arena on Tuesday night, Pink proved that Beautiful Trauma was a beautiful masterpiece.
How could she not explode onto the stage with Get The Party Started? Hanging from a Dr- Seuss-Meets-Escher-Meets-BDSM chandelier? In a black sequinned catsuit?
This is where the clever curation began.
With roughly 18 years' worth of recording up her sleeve, it was one thrilling ride of 'what's she going to sing next?' after another.
She reminded us why she was here by launching into the tour's namesake Beautiful Trauma before reminding us how far she's come with Just Like A Pill and Who Knew.
But it was another new-kid-on-the-block track where things really ramped up. We slid into Revenge via some hilariously sick animation and while Eminem didn't make an actual cameo during the duet, a MASSIVE BLOW UP EMINEM DOLL did.
Pink then went slightly off-script during Funhouse, channelling Gwen Stefani with a mash-up of No Doubt's Just A Girl.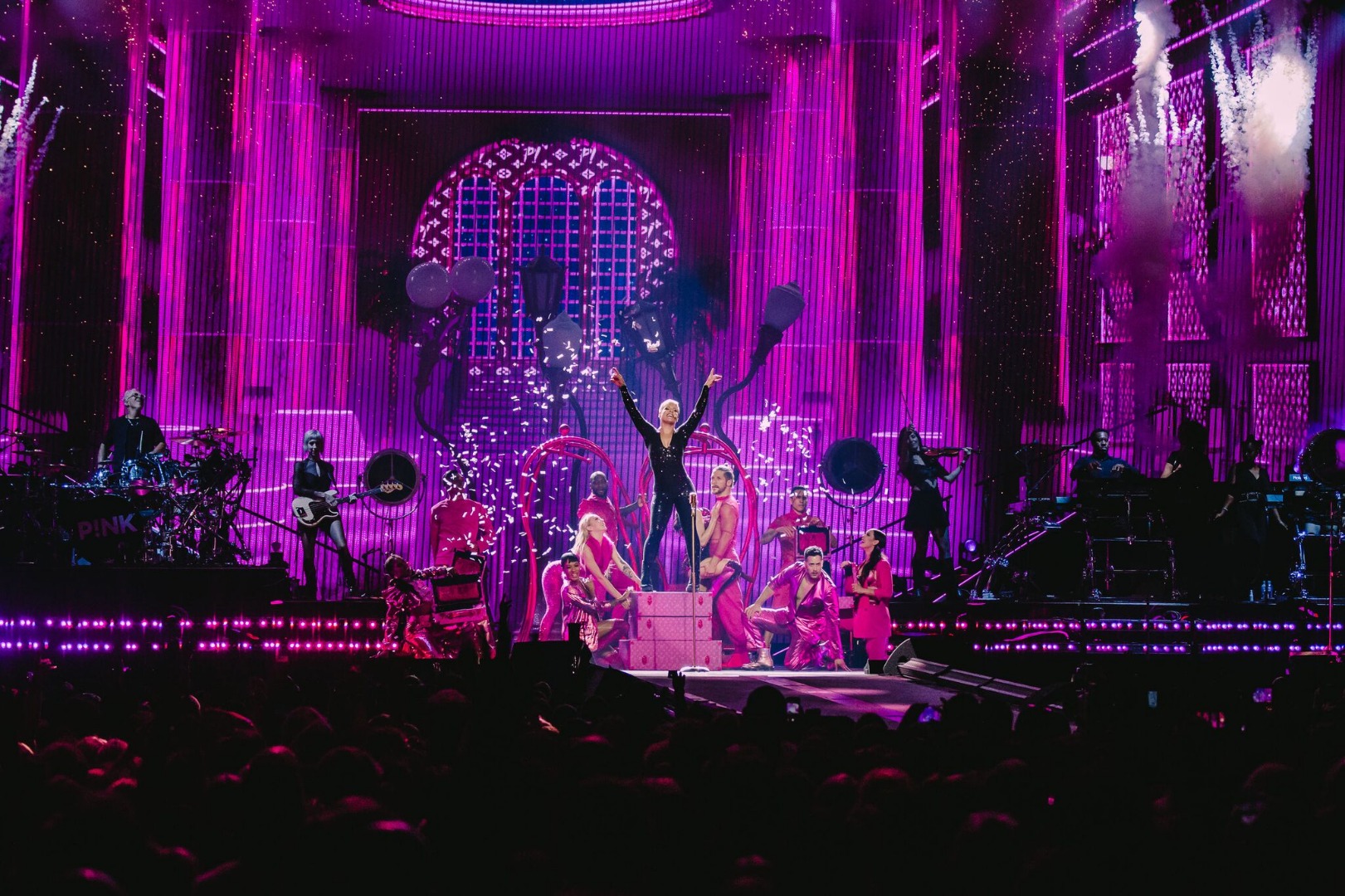 Pic credit: Sean Finney
The '90s throwback continued with not even an interpretation but a full rendition of Smells Like Teen Spirit. Yep, as in Nirvana. While it was a risky move, this is Pink we're talking about. Risk is what she does.
Speaking of risk, Cirque-style aerials are still a massive standard of Pink's show, or should I say, the Pink experience.
During Secrets, at least I'm pretty sure it was, my jaw dropped during most of it, I was convinced that she and her fellow aerial performer were engaged in some sort of varsity-level sex swing action. High above the audience, not only was Pink singing, at one point she was completely unsupported by any aerial cables or slings, except that, while she hung upside-down, her foot was being held by sheer strength of his hot-damn thighs. Eye-watering stuff.
The theatre – and it was pure theatre – continued with a dark whimsical backdrop (think scary forest people with bird heads carrying candelabras) before Just Give Me A Reason, complete with a floating aerial four-poster bed. Siiiiick.
Towards the tail end of the show, another clip was played which recounted a conversation with her young daughter, Willow. It touched on feminism, self-worth and celebrating difference. It was gritty, matter-of-fact and, rather than preachy, it fit.
The clip wasn't just a sobering reminder that we were well beyond 2006's Dear Mr President but that, quite simply, it was a love letter to her daughter.
It was a surprisingly perfect preamble to Raise Your Glass before Blow Me (One Last Kiss), at the end of which, Willow ran out to hug her mum, complete with purple earmuffs.
This should've been the end of the show. Of course, it wasn't.
Pink wanted to hi to those in the nosebleed section. So, via aerials, she did. She was literally launched from the stage up to the back before swinging around to every corner of the Arena – all while belting out So What. Essentially, we all got our front-row ticket.
Rounding out the night, Pink put the theatrics and the sequins aside and, wearing jeans and a white T-shirt, gave a stripped-down performance of Glitter In The Air… just Pink, her voice, and roughly 15,000 fans who all got out their modern-day lighters, their phones, to add to the moment. Shoutout to the girl who literally used a lighter.
Welcome home, Pink.
P!nk will begin her Sydney performances on August 3 at Qudos Bank Arena
Want more? Get more from Kyle & Jackie O!