In a social media post beginning "Throw Up Thursday", P!nk is doing what she does best.
Unapologetically expressing her opinion and advocating for compassion, equality and respect.
In the lengthy post the singer hits out at the haters and anonymous keyboard warriors who throw abuse her way on social media.
The sass continues as she goes on to explain to the where the 'unfollow' button is and encourages them to use it.
"I am mostly peace and love, with a little bit of go f*ck yourself," she posted.
"So when you keyboard warriors (anonymous tough guys) threaten me? that middle finger is pointed at you.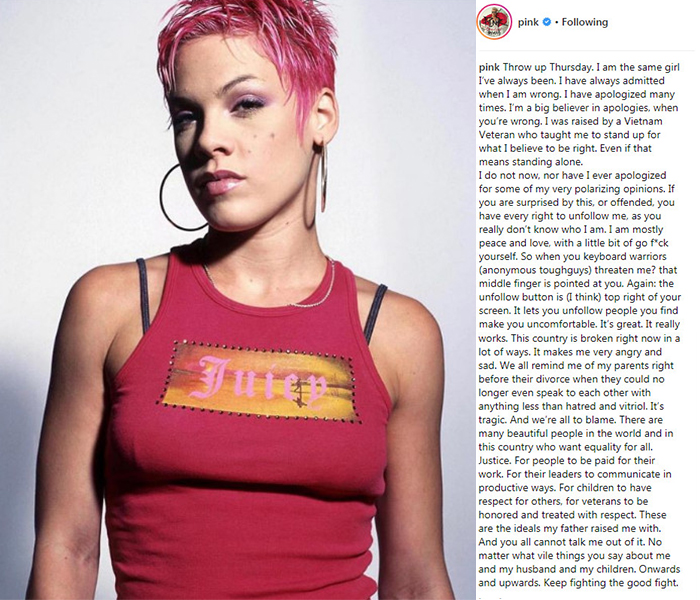 "Again: the unfollow button is (I think) top right of your screen. It lets you unfollow people you find (sp) make you uncomfortable.
"It's great. It really works. This country is broken right now in a lot of ways. It makes me very angry and sad."

Pink then explained that the state of the country and the world is filled with hate and anger, instead of people striving to do better and treat others with respect.
"We all remind me of my parents right before their divorce when they could no longer even speak to each other with anything less than hatred and vitriol. It's tragic," the post continues.
"And we're all to blame. There are many beautiful people in the world and in this country who want equality for all. Justice.
"For people to be paid for their work. For their leaders to communicate in productive ways.
"For children to have respect for others, for veterans to be honored and treated with respect."
Her post has been met with praise from her fans, gathering over 260k likes in just over three hours.
Could we love this woman any more?
Want more? Get more from Kyle & Jackie O!