Shopping online can sometimes be so much easier than battling it out with stressful crowds in an actual store.
However one online experience has left a sour taste in Twitter user @BeckyBedbug's mouth.
Becky was about to purchase a dress from ASOS, when she noticed that the price in her shopping cart didn't add up.
She soon realised, with disgust, that she had been charged an extra $15 because she had ordered a plus size dress.
Becky took to Twitter to vent about the situation.
So cute when brands charge extra for the same dress in a couple of extra sizes @boohoo @ASOS pic.twitter.com/ABmaSE63lZ

— Becky Bedbug (@BeckyBedbug) 10 July 2016
Another Twitter user soon pointed out that more material is used for bigger sizes and this could explain the price hike, however Becky quickly fired back if that was the case then the smaller sizes should be cheaper.
And she has a point here.
ASOS responded to Beckys tweets saying the products in question are not made by them and that they have no sway over BooHoo (the company that manufactures the dress in question.)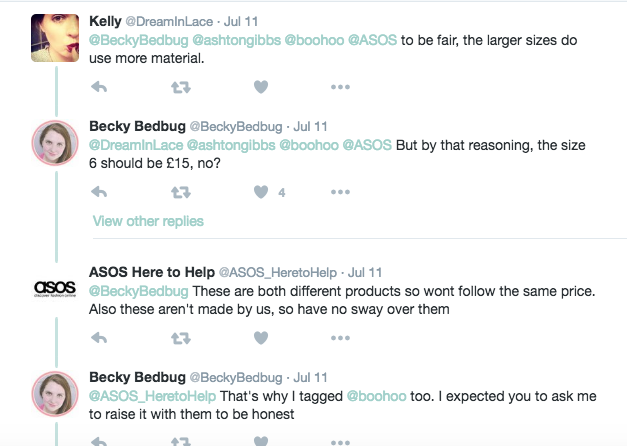 We reached out to ASOS and have yet to rcieve a response.
Source Cosmopolitan
Want more? Get more from Kyle & Jackie O!