Sometimes you hear a story that's just so moving that you feel compelled to do something to help. Today this happened to singer and good friend of the Kyle and Jackie O Show Conrad Sewell when he heard the brave story of Jess.
Jess is just 22-years old but in her short lifetime she has already been diagnosed with cancer four times.
The first diagnosis came at the age of 15 when doctors told Jess that she had Stage 2 Hodgkin's Lymphoma. After going through a series of treatments she eventually entered remission and her life started to return back to that of a normal teenager.
But four and a half years later, just six months before Jess was to be officially named a cancer survivor, she was given the horrible news that her body was once again overcome with cancer. This time, it was an aggressive form called Mucoepidermoid carcinoma and it was a direct result of her previous radiotherapy treatment.
This tumour was originally removed, but unfortunately it was not in time. The cancer had spread through her body.
Doctors told Jess that she had two options. She could have risky surgery to remove the tumour, but this could lead to life changing and possibly permanent damage, or she would have three months left to live.
At the age of 20, being faced with the decision to either have surgery that could impact your quality of life completely or accept the fact that you only have a matter of months left to live, would be incredibly overwhelming and could lead most people to breaking point.
But instead of giving up, Jess built up her strength and chose her own path. She started a vegan alkaline diet, which includes lots of herbs and vitamins, and after three months using this alternative treatment, her cancer completely disappeared. Jess became known as the 'Miracle Girl' to doctors.
Unfortunately, it would not last, and just a few months ago back in March Jess was given her fourth cancer diagnosis. The cancer had returned and it was just as aggressive as the first time.
Thankfully, Jess appears to have a strong support system around her to get her through this insanely tough time. Her friends have even organised a fundraising event to help pay for the costs of her treatment.
When Kyle and Jackie O heard word of Jess' incredible story and the fundraising event that was being held they immediately knew that they had to help out. They brought Jess in studio to tell her story and collectively they donated $5000 to help ease the money stress that her treatment had brought to her family.
But that's not all. One of the amazing things about our show, is that we have some incredible listeners. And as it turns out today one of those listeners was none other than 'Healing Hands' singer Conrad Sewell.
Conrad called in wanting to speak to Jess. He told her that he had heard her story while driving to the airport and that he was incredibly moved by her bravery and that he wanted to help out in some way.
"I'm on my way to the airport and I'm literally shaking in the car listening to it," he said. "I'm seriously blown away with how brave you are. I want to do something."
Find out just what Conrad did to help Jess in the video above! It's safe to say that she was blown away with his incredible generosity.
Well Jess, we're all incredibly blown away with your strength and positivity in the face of such unfair adversity. The entire Kyle and Jackie O team wishes you the best with this journey and our thoughts and prayers will be with you while you tackle this terrible disease.
Unfortunately tickets are sold our to Jess' charity event, but you can still get involved! If you want to donate to her fundraiser you can find the details below.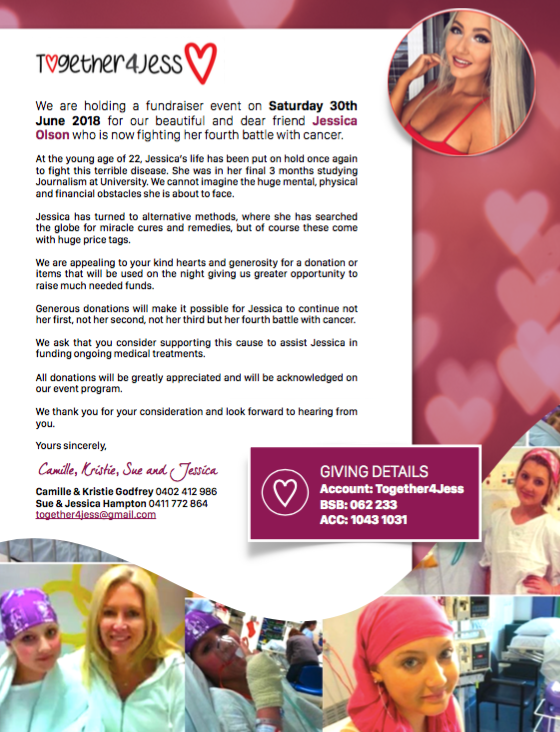 Love this? You'll love this bit from Will & Woody – catch the boys weekdays from 4PM on KIIS 1065