Thought the Duke and Duchess' decision to name their newborn daughter Charlotte was absolutely perfect?
You're not alone, with the name proving second most popular with Australian parents last year.
Oliver and Olivia took out the top spots for most popular boy and girl names in 2014, with William and Charlotte coming in second.
Other favourites included Jack and Mia (3), Noah and Ava (4), and Jackson and Amelia (5).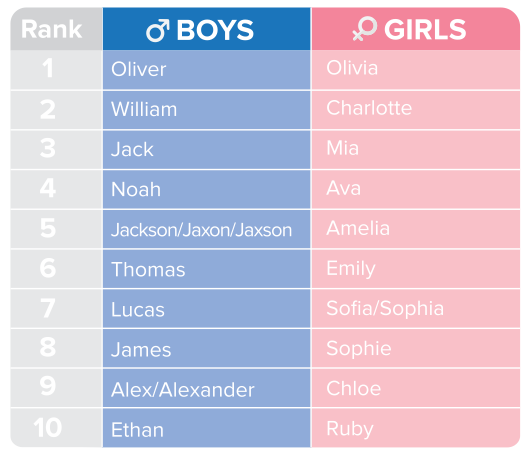 According to figures collected by McCrindle, Oliver was a clear favourite around Australia with just the Northern Territory and Australian Capital Territory bucking the trend, with William proving most popular for boys.

Australian's were slightly more divided on the most popular girl name depending on which state you visited.
In New South Wales, Victoria and Queensland, Oliva took out the top spot, while Charlotte was the preferred choice in South Australia, Tasmania and the Northern Territory.
In Western Australia it was Emily that won parents over, while Amelia was clear favourite in the Australian Capital Territory.
According to McCrindle, Harvey, Gabriel and Hazel were among the eight new boy names and nine girl names to enter the top 100 in 2014.
But it was at the expense of names like Jesse, Seth and Parker which dropped off the list.
One of the biggest trends to note, is the return of traditional baby names over those considered 'trendy'.
Dubbed the '100 year return', many of today's favourites have been revived from the last century, with names from more recent decades dropping in popularity.
However, while parents may be looking to tradition to name their newborns, they're certainly not sticking to traditional spelling.
Apostrophes, hyphens and phonetic spelling are becoming popular alternatives to ensure s baby's name remains unique.
Other key trends included the use of gendered names like Harper, Ashton and Alex; geographical names such as Georgia, Indiana and Austin; and religious names like Noah, Thomas and Abigail.
See what names made the top 100 here.
Love this? You'll love this bit from Will & Woody – catch the boys weekdays from 4PM on KIIS 1065