Nordstrom is selling a tiny rock in a leather case for $125 AUD.
Yes, seriously.
We know that these days basically anything can be passed off as 'art,' but this is simply ludicrous.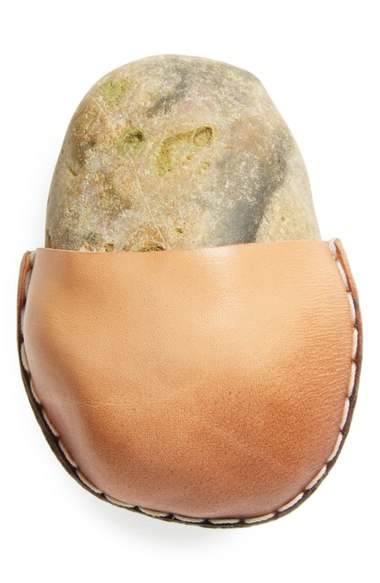 The site specifies multiple uses for the 'Medium Leather Wrapped Stone'.
"A paperweight? A conversation piece? A work of art? It's up to you, but this smooth Los Angeles-area stone—wrapped in rich, vegetable-tanned American leather secured by sturdy contrast whipstitching—is sure to draw attention wherever it rests."
C'mon guys, it's just a rock.
Alas, the pouch is cut and created by LA-based leather company Made Solid, and a Nordstrom rep told Buzzfeed: "Only Mother Earth can take credit for rocks." Or in other words, 'yes the rock did some straight out of the ground.'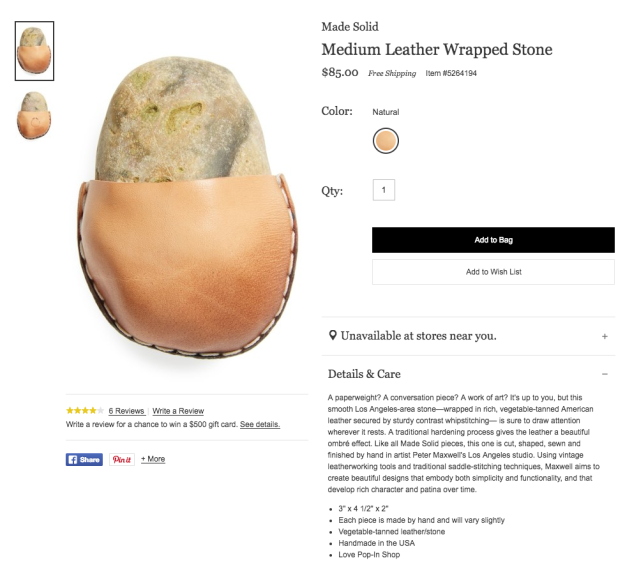 But despite the detailed description of the product, people are still VERY confused.
"I ordered the leather wrapped stone as a gift for my beloved girlfriend but when it arrive in the mail I quickly noticed it wasn't as described," wrote one reviewer. "It clearly states that the stone was hand-made but upon inspection one could easily discern many markings from factory machinery. I had it returned so they could ship me an authentic hand-made stone."
I mean, if you're crazy enough to spend $125 on a rock, then we really have no sympathy.
But if you are one of the disappointed customers who splurged on the rock, maybe some of the product reviews will cheer you up.
"Choose this over food," wrote one reviewer. "As a single mother, it is often difficult to put food on the table for my 5 children. However, when I saw this piece of rock, I couldn't help it but to purchase this item. Yes, no one in my family will eat this month, however I have a piece of rock… I can't believe the rock is made by hand too! I was always told rocks were made through thousands of years erosion, guess I was wrong."
"This is the perfect holster for your slappin' stone," another reviewer wrote. "Even comes with a backup. It's a little pricey — but the sales lady told me the rock was made by hand. That's got to be difficult."
"Have to say that this is truly a beautiful product, but I had to send it back because there aren't any doggone instructions. I don't even know how to turn the flippin thing on. I know you millenials know how to do all this new techno stuff, but help some of us old guys out, would ya?"
"The perfect stocking stuffer for the naughty person that has everything!"
The rock is also available in a smaller size and surprisingly the company said the rock was "one of our most consistently popular items, actually," and that the last time they had done a sale with Nordstrom "they sold out at most stores."
Stranger things have happened.
I know what I'm not asking Santa for this Christmas.
Source: Buzzfeed
Want more? Get more from Kyle & Jackie O!