In the words of KeKe Palmer, "sorry to this woman."
As we all know, celebrity wax figures can be hit or miss — there's really no in-between. So, when the Madame Tussauds in Berlin unveiled its latest wax figure of Nicki Minaj on Tuesday (January 7), it, unfortunately, fell into many people's miss category.
While the German museum captured Nicki's, let's just call it, vibe — they nailed the "MEGATRON" rapper's outfit and pose from her 2014 "Anaconda" music video — fans noted that Madame Tussauds missed the mark when it came to recreating her wax figure's face. (See below.)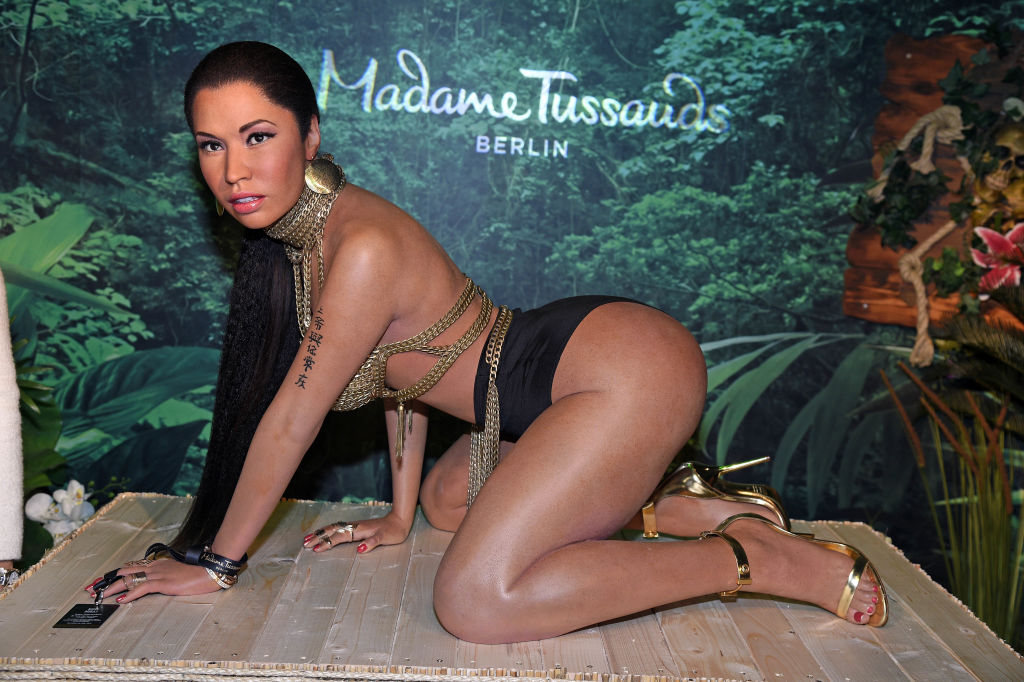 Just in case you needed a photo comparison, check out a shot of Nicki from the actual music video below.
the new Nicki Minaj wax figure in Berlin isn't…great… 😅 pic.twitter.com/zKNythVOMo

— Complex Music (@ComplexMusic) January 7, 2020
As you'd expect, Twitter has been having a field day reacting to Nicki's wax figure, with many calling it downright disrespectful.
That ain't Nicki Minaj that's pic.twitter.com/JSBFyOVDfK

— plugmeinsac (@PLUGMEINSAC) January 7, 2020
me looking at nicki minaj wax figure pic.twitter.com/bXK67x5tv8

— ッ (@yaniqxe) January 7, 2020
I don't know how but that Nicki Minaj wax figure is absolutely racism. 😭 pic.twitter.com/qFjk89wyRn

— D ® E W | K A N G (@drewscotty) January 7, 2020
They disrespected @NICKIMINAJ with that wax figure…

— Vitty♒️ (@littyxvittyy) January 7, 2020
☠️☠️ idc idc idc, whoever did that wax figure tried to play @NICKIMINAJ they know dam well that looks nothing like her! pic.twitter.com/ULye4RmlqW

— ✨Kahreem✨ (@Kahreem_) January 7, 2020
Nicki Minaj's wax figure

Me: pic.twitter.com/gnSCG6xUB4

— ANGEL (@BumpUHeauxes) January 7, 2020
Listen, I'm not even die hard Nicki Minaj fan but she can RAP & ppl don't give her talent the credit it deserves. That wax figure Madame Tussaud's put out…that's not Onika Maraj. I'm so sorry. Does google not exist? They looked at that mess & said "yh, we got it". No, you don't. pic.twitter.com/VtQmLYgy0D

— Zu (@ghetto004) January 7, 2020
Wait… y'all see Nicki Minaj wax figure? I- pic.twitter.com/7IqKbpdBhp

— Markiss WHOston (@NOTKarltonBanks) January 7, 2020
Sadly, this isn't the first time Madame Tussauds has been called out for getting their celebrity wax figures wrong.
In 2017, the museum came under fire for its Beyoncé's wax figure. In fact, the backlash was so bad that Madame Tussauds commissioned a new figure of Queen Bey that was added to its flagship London location last year. Unfortunately, the London museum was also the location of another highly criticized wax figure of Ariana Grande. (You can see what her fans thought about it HERE)
Article: Lauren Crawford
Love this? You'll love this bit from Will & Woody – catch the boys weekdays from 4PM on KIIS 1065