You guys are going to be so mad at me because I admit…this isn't an official Harry Potter branded escape room.
It was made by some mad nerds at the 'Petes Township Library' in Pennsylvania and we salute our brothers up north.
So don't expect life changing virtual reality okay? It's made by a library. It's going to be substandard at best.
Even the opening page triggered me to my high school library class days, trying to learn J-store and the dewey decimal system (I still haven't nailed it).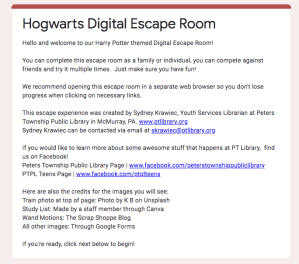 BUT IN SAYING THAT IT'S TOTALLY FREE AND SOUNDS LIKE A RIGHT LAUGH.
You're a first year at Hogwarts' and you solve riddles and learn spells to get through to the end.
So if you're in self-isolation and feel like…going to an imaginary school…then this is right up your alley!
I feel like I'm trying to sell something that might not be that good, but a small part of me is laughing that myself and a number of you are definitely going to waste some precious minutes on this dumb thing.
You can check it out here.
If you want to. I didn't force you, you can't pin this on me!
Love this? You'll love this bit from Will & Woody – catch the boys weekdays from 4PM on KIIS 1065