Mackenzie Moretter is a very special little girl. She suffers from Sotos Syndrome, which means she has development delays in speech and learning.
Just before her 10th birthday, Mackenzie invited several girls to her birthday party, all of which declined, cancelled last minute or just didn't bother to RSVP at all.
With just 12 hours until the party, Mackenzie's mother Jenny knew she had to do something. So she took to Facebook to come up with a resolution with the help of the community in their hometown of Minnesota.
"Hello moms (sic). I'm writing because I have a beautiful daughter named Mackenzie who is turning 10. I recently invited several girls to her birthday party this Saturday. I got cancellations or no calls at all saying whether they're coming or not. My daughter has Sotos Syndrome which means she has development delays such as speech and learning. At school she struggles and is often alone on the playground. As a mother, it is heartbreaking being you want your children to be happy. I'm reaching out to moms who have daughters between the age of 9-11 that would love to come to a birthday party tomorrow from 11-1:30. You don't have to bring gifts or stay long, just stop by and wish her a happy birthday. As of now, I have two girls coming which is family. She would be so surprised to have other girls just show up. If you are interested please send me a pm and I'll give you my address. Thank you all for reading a mother's wish!"
The post was swiftly picked up by Fox9.com and before they knew it, news of Mackenzie's birthday party went viral. The Facebook page has 1.4 million people and hundreds from Minnesota said they would love to attend the party, which meant the party had to be moved to Shakopee Memorial Park.
"Today is going to be the best day ever! Mackenzie is so excited to meet and see everyone. As for her mom, I'm overwhelmed with emotions, my heart has been touched by so many stories similar to mine or just people wishing her a Happy Birthday. I will never be able to thank you all enough for your kindness. I will meet so many people today and I have received an outpouring of comments and messages. I will not remember all your names or I may forget what was said or done but just know I am so incredibly grateful and blessed that you cared about my daughter. Love to all."
Not only did Mackenzie have an incredible day, she made so many new friends!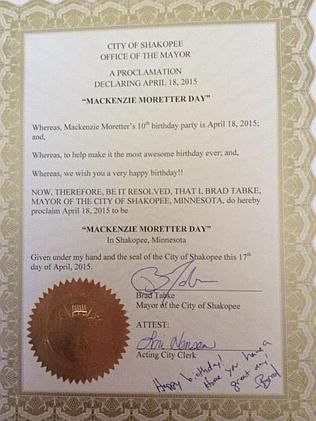 Shakopee Mayor Brad Tabke also issued a proclamation announcing that Saturday would be Mackenzie Moretter Day, and issued the 10-year-old with a signed certificate of declaration.
Local businesses also donated food, and a woman dressed up as Elsa from FROZEN, which is Mackenzie's favourite characte, showed up to entertain the kids.
All up, more than 300 people turned up for the event, including Minnesota Vikings football player, Charles Johnson.
After the party was over, Mackenzie's mum took to Facebook to thank each of the guests and those who had helped to put a smile back on Mackenzie's face.
"A big thank you from our family … From the moment Mackenzie has been born, she's made a unique mark on the world. She's been a light to everyone that knows her.
"This is why in planning her party, I was so taken aback when individuals didn't RSVP. As a mother, I was heartbroken for my daughter. I see a side of Mackenzie the rest of the world may not be privy to — she's intelligent and thoughtful, courageous and kind. Mackenzie was deserving of one, special birthday.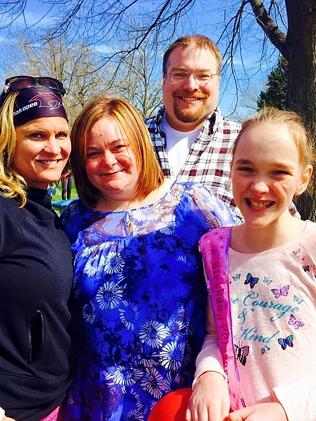 "That's the reason I reached out to the Minnesota community to help. The outpouring of support for Mackenzie and our family has been humbling. We are truly, truly thankful for your kindness.
On Saturday, you changed the life of a little girl that many of you have never met. And, you've given this mother purpose to spread a message of acceptance, tolerance and love, beyond just our home."
Source: news.com.au
Image source: Facebook
Love this? You'll love this bit from Will & Woody – catch the boys weekdays from 4PM on KIIS 1065