Australian model Miranda Kerr has reacted to ex's Orlando Bloom's new bubba.
The duo were an iconic pairing back in the day, with a son together they have constantly been nothing but amicable with one another.
Kerr is now happily married to BILLIONAIRE Snapchat founder Evan Spiegel, so don't worry…she's good.
If you haven't heard the news yet, Katy Perry's new baby has been named DAISY DOVE BLOOM, which is the sweetest little name ever, I approve.
Because of their healthy relationship, Kerr was comfortable enough to like Orlando's post and comment 'I'm so happy for your guys. Can't wait to meet her.'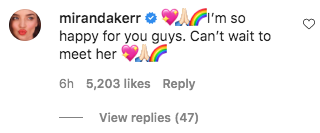 Their son officially has a baby sister and must be so excited!
Congratulations to the pair, you make a lovely family.
Listen to Katy's Interview with Kyle & Jackie O where she was still pregnant and almost ready to pop!
Want more? Get more from Kyle & Jackie O!