Ex-Australian darling Miranda Kerr hasn't been in the news recently.
Iconically a past Victoria's Secret model and previously married to Orlando Bloom.
She's NOW married to BILLIONAIRE Evan Spiegel who's the founder of Snapchat.
WHY AM I NOT A FLAWLESS SUPERMODEL DAMMIT.
Anyway, here's what she's done.
https://www.instagram.com/p/B9rxfO3ni1m/
She's chucked a Gwyneth Paltrow and promoted a 'Virus Protection' guide by Anthony William, a self proclaimed 'medical medium'.
Whatever that means?
So he's pretty much started a celery movement.
Yeah.
You read that right.
He thinks that celery juice is the greatest healing tonic of all time.
Anyway, literally has no medical qualifications and says his celery movement and advice comes from "communication with gods" so people are pretty mad that Miranda would promote his advice on virus protection.
Dr Joshua Wolrich, a surgical doctor, a nutritionist and he's instagram certified has commented on the post absolutely blasting her for promoting false information.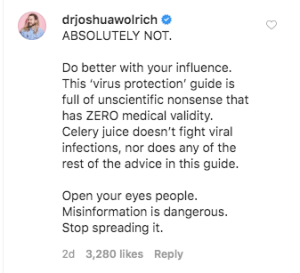 And other people are saying similar things.
"The "medical medium" has no medical license of any kind. Spreading his pseudoscientific misinformation is literally dangerous at this point. Please consider removing this," wrote one person.
"This is really irresponsible. Stop spreading fake information," wrote another.
"Please don't share information when you're not qualified to do so (especially from someone who REALLY isn't qualified to do so). The information you're sharing isn't in any way valid and to anyone who reads this, IT WILL NOT PROTECT YOU FROM THE VIRUS. Please take it down," commented someone else.
Looks like Miranda Kerr has landed herself in some hot water…