If you thought Miley Cyrus and Liam Hemsworth couldn't get any cuter, well, you thought wrong. Miley shared an adorable photo of her new hubby cuddling with a puppy and, TBH, it's everything.
In a screenshot shared by People, the 29-year-old actor can be seen rocking a neon green hoodie as he cuddles with one of their many pets. Miley hilariously captioned the sweet snap: "[Liam Hemsworth] AKA Hem-dawg…he made me post this with these specific captions."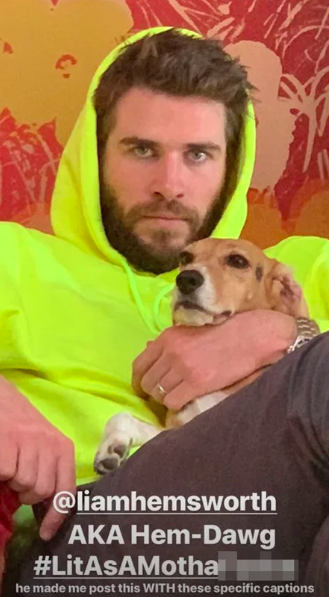 Miley and Liam's love for animals is on the tentpoles of their relationship. Following the tragic California wildfires that destroyed the Malibu home they shared together, Miley spoke about Liam's heroic actions that saved all their pets from the devastating flames.
"Liam, I've never loved him more for this. I call him my survival partner now. He thinks it's not romantic, but I learned that it is. It is why you pair up with someone, for survival. He was so incredible — he got all the animals out in his truck. He put two pigs in crates, which I tell you is so hard," Miley said.
"My cats, they're so stupid," she continued. "He tried to get my cats out and he was trying to lead them to the truck because he had the dogs and all these things, and one of the cats started running away. The cats have never really been outside and he started opening the door, trying to get them in and out. The one cat just ran away, and I'm so glad he didn't just say, 'Okay, you don't know what you're running into.'"
Fingers crossed Miley keep sharing sweet snaps of her hubby and all their cute pets!
Listen to Miley Cyrus' Artist Radio on iHeartRadio now!
Article: Emily Lee
Love this? You'll love this bit from Will & Woody – catch the boys weekdays from 4PM on KIIS 1065