Miley Cyrus has spoken out about gender expectations and her struggles as a child-star in an article for TIME magazine.
And the 22-year-old's words are brilliant…
"[Overly macho men] made me feel like I had to be a femme-bot, which I'm not. And then when I was with a girl, I felt like, 'Oh s—, she's going to need someone to protect her, so I'm going to need to have this macho energy.' And that didn't feel right either. [I went on a Valentine's date to a restaurant with a man and] all the women in the restaurant were with these older, fat men that had just let themselves go. They were just being drunk b—–ds. And then the women were sitting there, trying so hard just to look good. And they're ignoring them the whole time. And I thought, 'I'm not living like this.' If I end up in a straight relationship, that's fine—but I'm not going to be with f—ing slob guys who are watching porn, making all their girls feel ugly."
She also said during the interview, "F—ing is easy. You can find someone to f— in five seconds. We want to find someone we can talk to. And be ourselves with. That's fairly slim pickings."
Cyrus also spoke out about a Vanity Fair shoot she did when she was 15, where her back was exposed.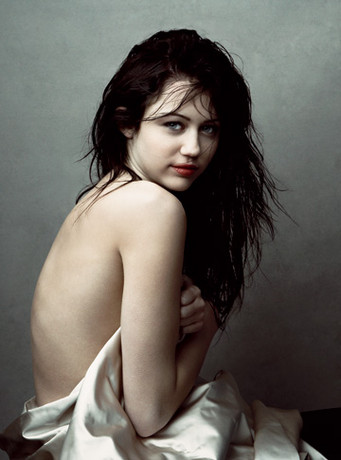 The offending shoot by Annie Leibovitz was rather modest compared to her recent Paper Magazine shoot.
She was "embarrassed" at the time and apologised to her scandalised fans.
Once when she was 14 and came back from summer hiatus while filming Hannah Montana, she had braces on.
"I had to take them off immediately because of the way I looked," she told TIME.
"If I was me now, I would have been like, 'F— you. Normal 14-year-olds have braces. I'm going to have braces on the show, so kids who have braces in real life know that's okay.' But I didn't have that in my mind then. I was coming from Nashville. My grandma's a beauty queen. I didn't know."
Now, Cyrus isn't afraid of offending anyone – and we definitely like this Miley a lot better!
She's launched her Happy Hippie Presents #InstaPride Instagram campaign to encourage young people of any identity to be themselves.
Love this? You'll love this bit from Will & Woody – catch the boys weekdays from 4PM on KIIS 1065