It's been 13 — yes, 13! — whole years since Hannah Montana aired its first episode on the Disney Channel.
On Sunday, Miley Cyrus, who earned her rise to fame on the show as every teenybopper's idol, took to Twitter and Instagram to celebrate the anniversary with a number of nostalgic throwback shots that'll bring you nothing but feels.
"It's the 13th anniversary of the first HM episode to air," the "Younger Now" musician captioned the adorable, black-and-white photo of her tween-age self at the Nashville airport before she heads to Los Angeles to shoot the sitcom. Cyrus would have been 13 at the time when the pilot episode of Hannah Montana — titled "Lilly, Do You Want to Know a Secret?" — broadcast on March 24, 2006. The show aired for four seasons until 2011.
It's the 13th anniversary of the first HM episode to air pic.twitter.com/81hAQOiEvX

— Miley Ray Cyrus (@MileyCyrus) 24 March 2019
The pop star continued her trip down memory lane on her Instagram Stories, posting funny snapshots from the series with captions of Hannah Montana reacting to the 26-year-old's most infamous moments since the show wrapped.
"Hannah watching the 2013 VMAs," the star wrote with a pic of her character looking shocked and surprised, referring to Cyrus' racy twerking performance. On another image, this time of Hannah using a silencing gesture with her finger over her lips, the vocalist writes, "After Hannah's psychic reading where she was told in 10 years she'd become a big stoner and wear nipple pasties on stage."
See the hilarious pics below.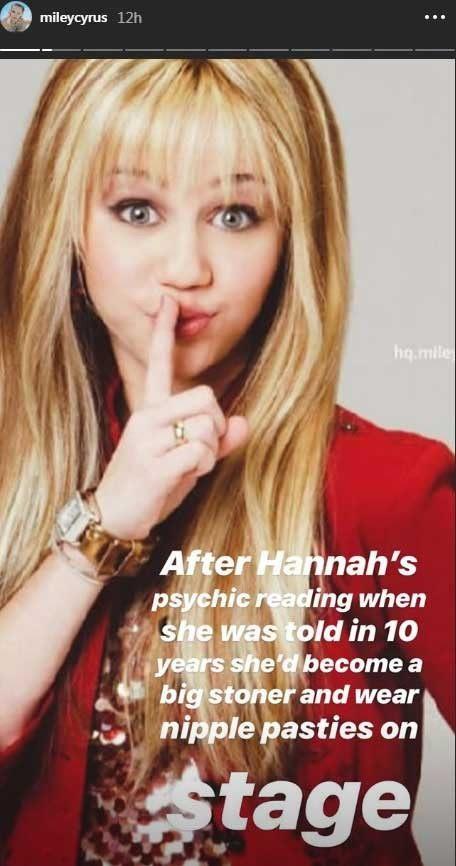 Listen to Miley Cyrus' Artist Radio on iHeartRadio now!
Article: Paris Close
Want more? Get more from Kyle & Jackie O!