Meghan Markle has set tongues wagging after being spotted sporting a necklace emblazoned with Prince Harry's initial. She was spotted in Toronto wearing the personalised gold necklace just days before the Prince deterred his flight home from the Caribbean to Britain, to spend the night with his rumoured girlfriend.
The Suits star's first initial sits alongside Harry's on the 14 karat gold necklace designed by LA designer Maya Brenner. Her work has been worn by the like of Kendall Jenner and Mila Kunis.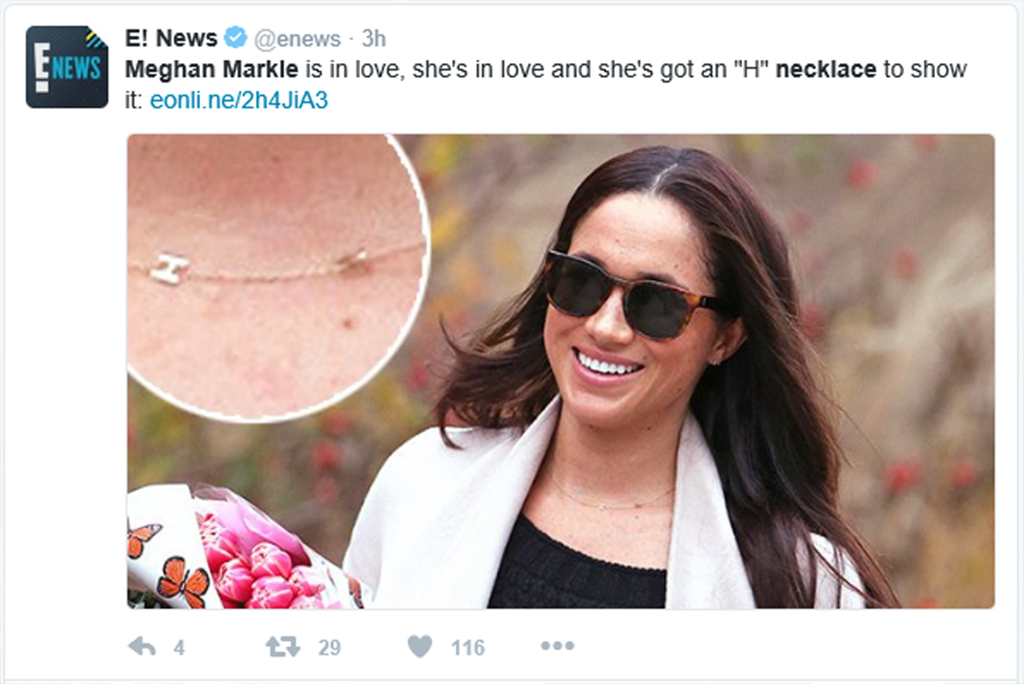 It's not the first time the pair have been spotted showing off their affections for one another through jewellery. They're often seen sporting matching beaded bracelets .
It comes as the Prince's close friend reportedly revealed Harry is happier than every with the actress and couldn't wait to see her.
"He was due to fly back to London on a British Airways flight with the rest of his entourage, but he changed his mind and diverted straight to see her as they couldn't bear to be apart," a source told The Sun.
"It's just another sign of how head-over-heels he is about her. He is absolutely besotted. We've never seen him so happy – it's great," he continued.
The couple are yet to make an official appearance together.
The actress posted an Instagram photo showing her dog Guy dressed in a Union Jack printed coat.