We watched her fall in love on screen only to break up two weeks after filming, but now there's a new man in Bella Frizza's life.
The Married At First Sight star has announced via Instagram she's found love again, this time with another Michael!
It's been five months since filming finished and rumours have been flying that many of the Married At First Sight contestants have found new partners. The bubbly blonde is the first to announce her new love story.
She took to Instagram posting a cute selfie of the pair captioned, 'And then she lived happily ever after.'
'So I've been keeping this little secret for a few months.. after 5 years of being single and one reality TV show – I'm in love with this gorgeous boy @smilishgambino. 'My Prince Charming. My World. My Everything. Love you Boyfie! Feels so good to be able to share it with the world finally!' she continued.
Bella revealed to Woman's Day that the reason behind her and husband Michael's split was due to a change in their relationship. 'The relationship was so different when the cameras were rolling to when they were not,' she said.
It took Bella only two weeks to meet her new man. This time is wasn't TV producers but mutual friends who introduced the pair.
'I knew pretty quickly this was unlike anything I could have imagined,' she said. As fans witnessed on Married At First Sight the … year-old wears her heart on her sleeve.
Like her relationship with TV husband Michael, it didn't take long for the radio announcer to reveal her true feelings to her new man, Michael Veitch. And they were mutual.
'I love her for who she is, and someone like Bella doesn't come along every day and I'm so grateful,' he said.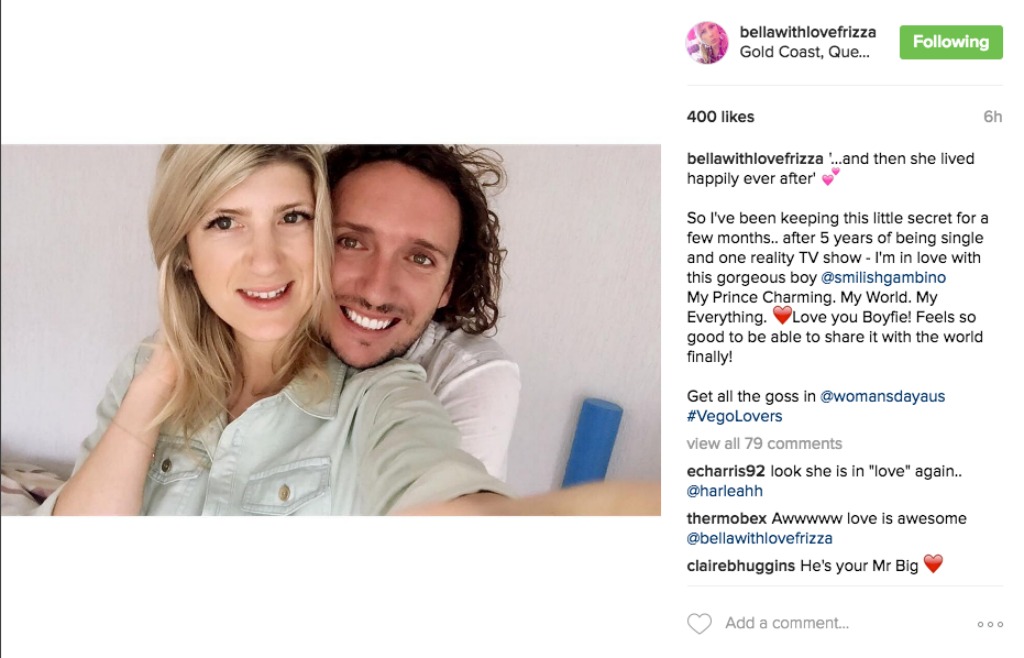 We're glad she's finally met her perfect man!
Want more? Get more from Kyle & Jackie O!