"Just go, tell our children that their Daddy loves them."
This is what Matthew James told his fiance Saera Wilson when extremists opened fire on tourists on a Tunisian beach on Friday.
Mr James, 30, and his 26-year-old fiance Ms Wilson were holidaying in Tunisia when terrorists attacked the beach where they were sunbathing.
Ms Wilson said her fiance shielded her with his body to protect her when the attackers opened fire, killing at least 38 people and injuring 36.
He told her to run away after he took a bullet for her.
They share a child together and Ms Wilson has another by a previous relationship, but Mr James is now fighting for his life in hospital.
They recently posted this photo to their Facebook page.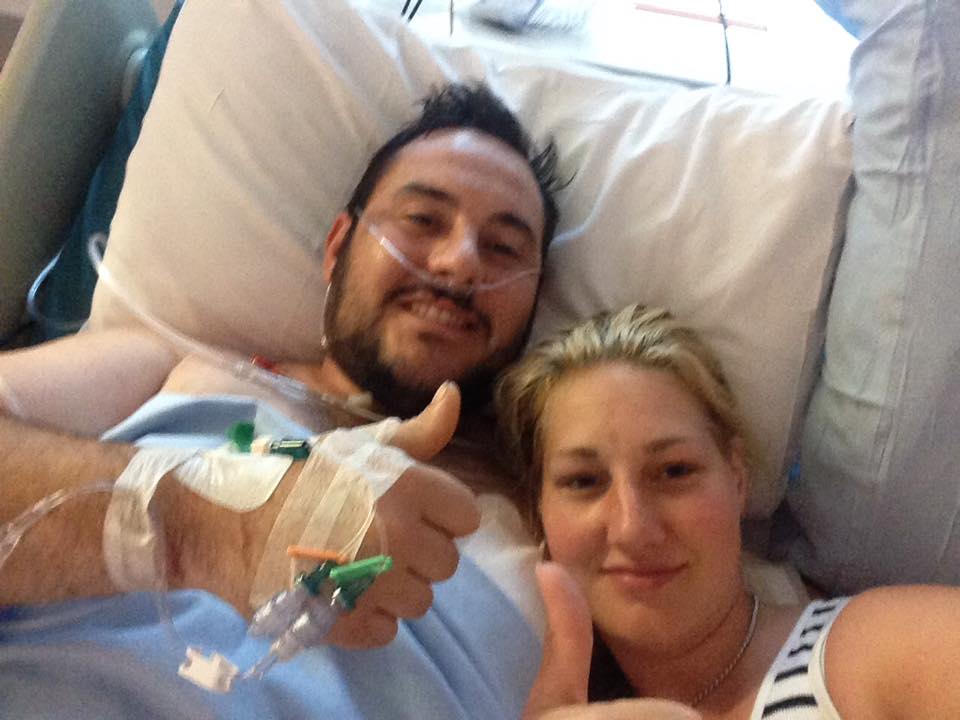 Ms Wilson spoke to the Daily Mail:
"He took a bullet for me. I owe him my life because he threw himself in front of me when the shooting started.
"He was covered in blood from the shots but he just told me to run away.
"He told me: 'I love you babe. But just go – tell our children that their daddy loves them.'
"It was the bravest thing I've ever known. But I just had to leave him under the sunbed because the shooting just kept on coming.
"I ran back, past bodies on the beach to reach our hotel. It was chaos – there was a body in the hotel pool and it was just full of blood.
"You just can't explain how terrible it was. It was chaos with screaming and gunshots. I'm just so glad Matthew is alive because so many other people are dead."
They were staying in the Bellevue hotel for a two-week break and left their children Tegan, six, and Kaden, 14 months with family.
The memorial left at the beach in south Sousse, Tunisia after the attacks.
When Ms Wilson got back to their room she hid in a towel-cupboard until it quietened down, when she came out to try and find out information.
"I didn't know if he was dead or alive. I was even looking under white sheets to see if it was his body.
"I kept on speaking to people and after about two hours somebody handed me a phone to say: 'I have a very grumpy man on the phone who won't do anything until he has spoken to you.'
"It was Matthew and that was the first time I knew he was alive. He just told me he loved me and that he has had an operation to save his life.
"I've been to the hospital intensive care and I'm just staying here on a chair now. His pelvis was shattered by the bullet and he also had a heart attack," Ms Wilson told the Daily Mail.
Islamic state have claimed responsibility for the attack.
The couple have started a GoFundMe page and a Facebook Support page, to help support them financially.
H/T Daily Mail & AAP
Photos: AAP & Facebook & GoFundMe
Love this? You'll love this bit from Will & Woody – catch the boys weekdays from 4PM on KIIS 1065