Lindsay Lohan is no stranger to a bizarre headline, last year making it to the news for taking part in an interview in which she showcased a mix of about seven different accents, a far cry from the authentic American accent she had in Mean Girls, and you know, the rest of her life.
Welcome to Islam lohan! Your fam loves you💖👑 #lindsaylohan @lindsaylohan pic.twitter.com/ctlxR5RP3R

— ناديا☕️ (@Nlovescoffee) January 13, 2017
Now, the troubled starlet has deleted the photos from her Instagram over the weekend, leaving nothing but a profile picture and a bio that now reads: 'Alaikum salam.'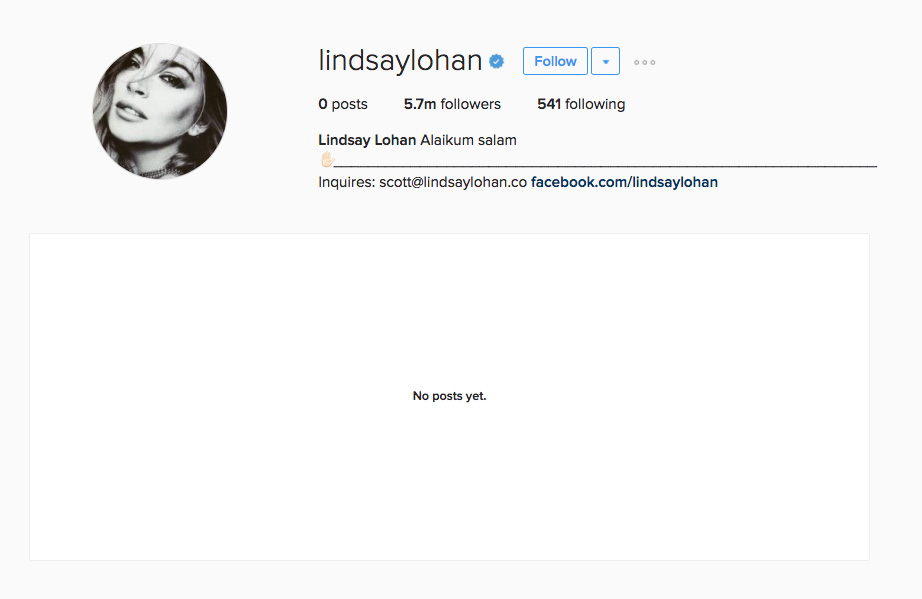 The Arabic greeting translates to 'and unto you peace,' and many took it mean that Lohan was converting to the Muslim faith. 'Im so happy that lindsay lohan found Islam. may Allah guide her and bless her,' wrote one young woman on Twitter.
Lohan has not revealed however if she is in fact converting to the faith, and a rep for the actress did not respond to a request for comment from DailyMail.com.
The suspected change in faith comes months after Lohan experienced well publicised troubles with her then fiance, Egor Tarabasov.
Photos surfaced of the two tackling in a violent exchange on the beach, and reports of her being afraid of him.
Lindsay Lohan Was Caught In A Beach Fighting With Her Fiance! https://t.co/8IPDyt0qQ3 pic.twitter.com/EgELOvSg7a

— Motivational Quotes (@Tweet_Nature) October 1, 2016
Last year Lohan was photographed holding the Quran while doing community service in Brooklyn and rumours started of her conversion to Islam then.
Welcome sis to Islam ☺ @lindsaylohan I am beyond proud of you. pic.twitter.com/5RmpFcwzQT

— Artiola F. (@ArtiolaOra) January 15, 2017
When appearing on the Turkish talk show Haber Turk later year, she explained that the book was actually just a gift from some friends.
'My very close friends, who have been there for me a lot, in London are Saudi and they gave me the Quran and I brought it to New York because I was learning,' said Lohan. 'It opened doors for me to experience spiritually, to find another true meaning. This is who I am.'
She claimed however that she was attacked after that picture was released in the media. 'They crucified me for it in America. They made me seem like Satan.
I was a bad person for holding that Quran,' claimed Lohan.
Lohan reportedly felt "unsafe" in her own country and was happy to return to London.
Source: Daily Mail