This morning Jackie read out a letter from a woman named Carol, which was about Kyle.
Not your normal complaint letter, 78-year-old Carol had decided to bring light to something heartwarming Kyle had done for her and her friend.
While dining at the new Butcher and the Farmer restaurant at the Tramsheds, Carol had spotted Kyle and was admittedly looking at him.
What she didn't realise until she went to pay for her meal, is that Kyle had paid for her and her friend's meal.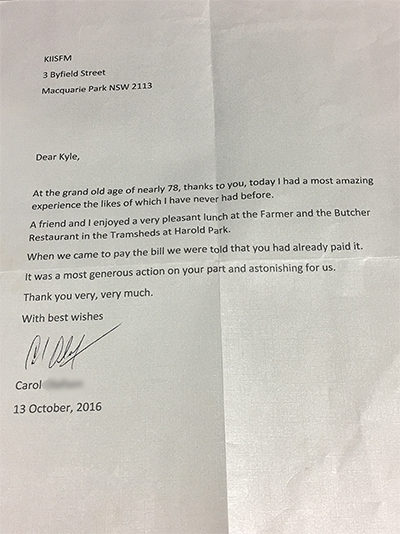 Carol was so moved by the gesture, she decided to send a letter into the show, thanking him for his kindness.
We got her on the phone this morning and Carol revealed that she was looking at Kyle because she "knew that face" and was trying to figure out where she knew him from.
She was SO shocked when she realised what Kyle had done for her.
Nawww!
Want more? Get more from Kyle & Jackie O!