WARNING: Graphic images
Some of Kylie Jenner's biggest fans are causing serious problems for themselves. They're competing in the #KylieJennerChallenge where they are using DIY practices to make their lips look fuller like Kylie's.
The fans are suctioning their lips with things like glasses, which constrict the blood vessels and as a result their lips swell and appear bigger.
Disturbing pictures of the challenge have arisen on social media, showing how some fans are having to go to hospital after the damage they have caused to their lips!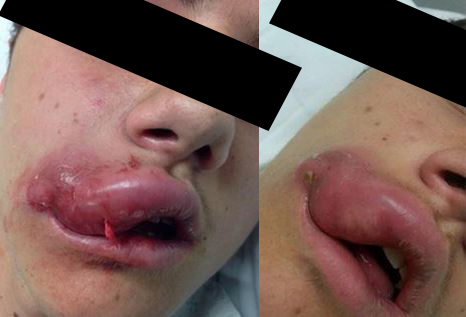 Kylie Jenner never asked her fans to do such a thing and has recently posted a tweet, saying she does not encourage the act.
I'm not here to try & encourage people/young girls to look like me or to think this is the way they should look. (Cont…)

— Kylie Jenner (@KylieJenner) April 21, 2015
I want to encourage people/young girls like me to be YOURSELF & not be afraid to experiment w your look. ❤️❤️❤️

— Kylie Jenner (@KylieJenner) April 21, 2015
Want more? Get more from Kyle & Jackie O!