No one likes fake news, but we doubt that anyone out there despises it more than our very own Kyle. And so when we first got a whiff that a story reported on MANY popular news sites might have a number of false claims hidden inside them, we decided to do a bit more digging and uncover the truth.
You might have heard the story brought up on the Kyle and Jackie O show yesterday after it was reported by a number of publications that a woman had suffered through the worst date ever after she fell off a cliff, injuring herself and was left stranded by the guy she was with because he was late for work.
It was a story that fascinated everyone and one that people instantly empathised with; after all pretty much everyone has experienced a date failure before in their lifetime.
But as it turns out, this whole story was completely blown out of proportion and what we originally thought was an action packed story of a woman having a near miss with death only to be ditched by her date, was actually just one of a clumsy mountain climber involved in one massive misunderstanding.
The part that was true from this exaggerated story is that a man and a woman went on a morning hike last Friday at the Glass House Mountains in North of Brisbane.
But after speaking to the woman involved this morning, Sarah Wylie, we found that a lot of the previously reported facts were completely false or heavily blown out of proportion. Here is all of the fake news that we uncovered:
1. When the Daily Mail reported about Sarah's hiking experience gone wrong, they labelled it the "worst date ever" and a "failed first date". But Sarah told us that the walk was in no way a date!
"It wasn't a first date! It was the first time we had met but it wasn't a date," explained Sarah. "It was just a meeting [for] two people having similar hobbies."
2. This is the really big stuff up. Pretty much every publication stated that Sarah had fallen off the side of a mountain and injured herself. Ten Daily reported that "Sarah Wylie slipped and fell off the mountain peak" while the Daily Mail's headline read "a man has shockingly left woman alone after she slipped off mountain edge."
But did Sarah really fall off a mountain? According to her, NOPE!
"I didn't go down the side of the mountain for starters," revealed Sarah. "I just took a step on a slippery rock and it just came out from underneath me…I put my hand out and had a really big gash in my hand because I put it down on a stump."
https://www.instagram.com/p/BlzRaN5HqfF/
3. This is another doozy. One of the big selling points of the original story was that after Sarah had injured herself, her date had left her stranded because he was "late for work".
While the truth is that the man did eventually leave to go to work, Sarah told us that it wasn't until after he made sure that she was okay and in the capable hands of other hikers and rescuers who were able to attend to her injuries.
"He stuck around because more help came, we assessed the situation and we both realised that the situation was under control and emergency services were on the way and then he left," explained Sarah. "It's been blown out of proportion."
Well, this is first hand proof of just how simple it is for people to create fake news out there today. But in some real news, Sarah sent us a photo of her gnarly gash that she suffered on her hand and hot damn that looks bad!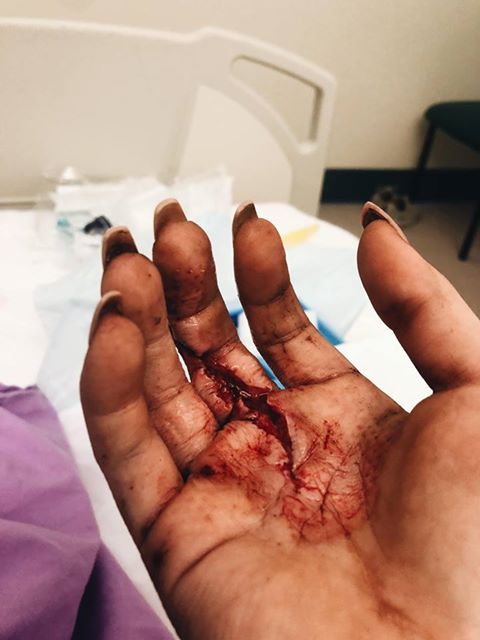 Want more? Get more from Kyle & Jackie O!