If your childhood didn't involve you and your siblings or friends racing each other in Mario Kart and taking it so seriously that each race would end in a tantrum from the loser, then you really haven't lived.
The sound of the high pitched intro saying, 'Mario Kart, WII!!' will forever be imprinted in our brains…
But just this morning our beloved childhood memory was completely ruined by none other than famed porn star Stormy Daniels as she revealed something that we could've happily gone our whole lives without knowing…
Stormy Daniels Reveals Something Terrifying About Mario Kart That Will RUIN Your Childhood
In case you're unaware who Stormy Daniels is, she is an adult film star who became famous after coming forward, claiming to have slept with Donald Trump before he became president of the United States.
Stormy spoke exclusively with Kyle and Jackie O this morning about her new book 'Full Disclosure' where she details her alleged experience with Donald Trump.
One of the things that Kyle found the most fascinating from the book was when Stormy described in detail what Trump's penis allegedly looks like.
Yesterday before speaking with Stormy, Kyle decided to do some research in preparation for the interview, and he read out an excerpt about Trump's thang directly from the book. And this is when all of our Mario Kart memories were ruined.
"His Penis is distinctive in a certain way…he knew I could pick his dick out of a line up," read Kyle from the book. "He knows he has an unusual penis.
"It has a huge mushroom head on it like a toadstool. He also has yeti pubes…And the penis is just like the mushroom character in Mario Kart."
Yep you know this little guy that makes you go faster when you get one in a box during a race? (All of a sudden this sentence sound SO dirty…) That's the mushroom she's likening his peen to.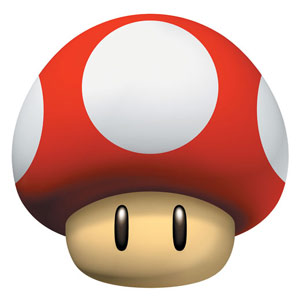 Speaking with Kyle and Jackie O today, Stormy said that she had no choice but to describe the intimate details of Donald Trump's member to prove that she didn't lie about sleeping with him.
However, she said that she did have some regrets about describing it so vividly because she ended up upsetting a large number of people.
"That description, you compared it to the Mario Kart character…is that quite accurate or an exaggeration?" asked Jackie.
"No it's perfectly accurate," respond Stormy. "I was very fair and very honest in the book , which in turn made a lot of people unhappy.
"People who really really hate him thought I wasn't mean enough and people who love him thought I was too mean. But basically it's just the truth."
Jackie added that she'd heard that fans of Mario Kart had been sending Stormy hate mail (that's right we weren't the only ones whose childhood was ruined over that description) and Stormy confirmed that this was in fact true.
"Oh yeah, that one I kinda deserve. I do feel bad about that," she said. "You know, in one paragraph I managed to ruin a lot of people's childhood video game and mushroom farming."
And the small portion of people who like yeti's we reckon too Stormy…
Want more of Stormy Daniels vivid descriptions? (You're brave if you say yes!) You can grab her book 'Full Disclosure' from bookstores now!
More: 17 celebs describe the colour of donald trump's hair
Want more? Get more from Kyle & Jackie O!