In the world of Public Relations, Roxy Jacenko is known as the Queen and so there's no doubt that when it comes to building a brand, Roxy knows exactly what she's talking about.
In order to convey her words of wisdom to others, Roxy has just released a new book, the fourth one that she's written over her career, titled 'Roxy's Little Black Book Of Tips & Tricks' that gives readers "the no-bullsh*t guide to all things PR, social media, business and building your brand".
Ironically though, a little mishap has caused the new book itself to have it's own PR crisis! In fact, every single one has since had to be recalled.
And unfortunately, it's all to do with a quote from our very own Jackie O.
Roxy Jacenko's New Little Black Book Of Tips And Tricks Had To Be Recalled Because Of Our Very Own Jackie O
After bringing the issue to Jackie's attention on air this morning, she decided to address what REALLY went down and how she is the reason for the recall of Roxy's book.
"You know how you have quotes on back where it goes, 'Oh this book's amazing', and you know, they wanted a quote from me and there's a couple of other quotes on there as well," explained Jackie on air this morning.
Jackie of course was happy to provide a quote, but this is where everything went a bit pear shaped. What she had intended to be a very positive and encouraging quote had turned into something completely negative after one word in particular was misprinted.
The quote was supposed to say, "Roxy never fails to deliver". But instead, what was printed on the back of the book was "Roxy never fails to disappoint".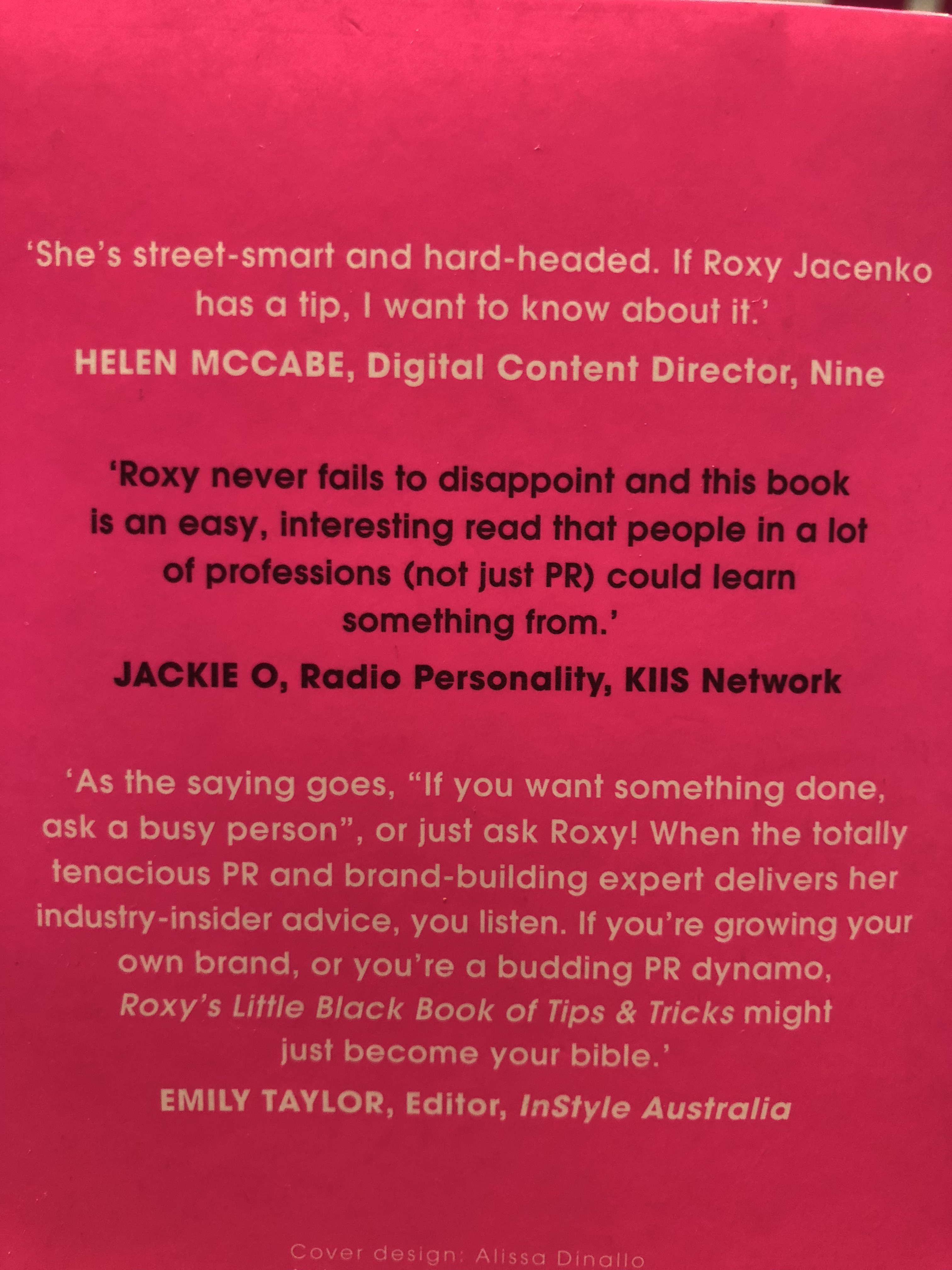 Very, very different messaging! And clearly not something you would want to plaster across your own book!
"If you analyse it, it basically is saying that all Roxy does is disappoint me in my life," explained Jackie. "And that didn't come from me, let me clear that up."
"They've recalled all the books because of that quote," she continued. "I definitely said, 'Roxy never fails to deliver'…They had six proof readers from the publishers proofing the whole book and no one picked it up until Roxy's friend I believe called her.
"The publishers have put their hands up and said it had nothing to do with Roxy, it had nothing to do with me and it was all their fault and that they've recalled it."
But while it was sold as a simple human error, Beau Ryan , who was filling in for Kyle this morning, had other ideas.
After all, Roxy knows what she's doing when it comes to PR and after this incident her new book has made headlines right across the country. So was it done on purpose?
"Roxy is a PR queen. She's got more press in probably the last 24 hours about the book than she will ever get…They're not out yet, it will sell out next week," said Beau.
Hmm interesting theory. Looks like we'll just have to ask Roxy for ourselves what the real deal is here when she joins us for a chat on air tomorrow morning!
Love this? You'll love this bit from Will & Woody – catch the boys weekdays from 4PM on KIIS 1065