After Prince Harry and Meghan Markle's first official day of royal engagements in Sydney yesterday everyone's talking about the incredibly sweet moment that the newlyweds had with 98-year-old Aussie Daphne Dunne, who has now met Harry three times.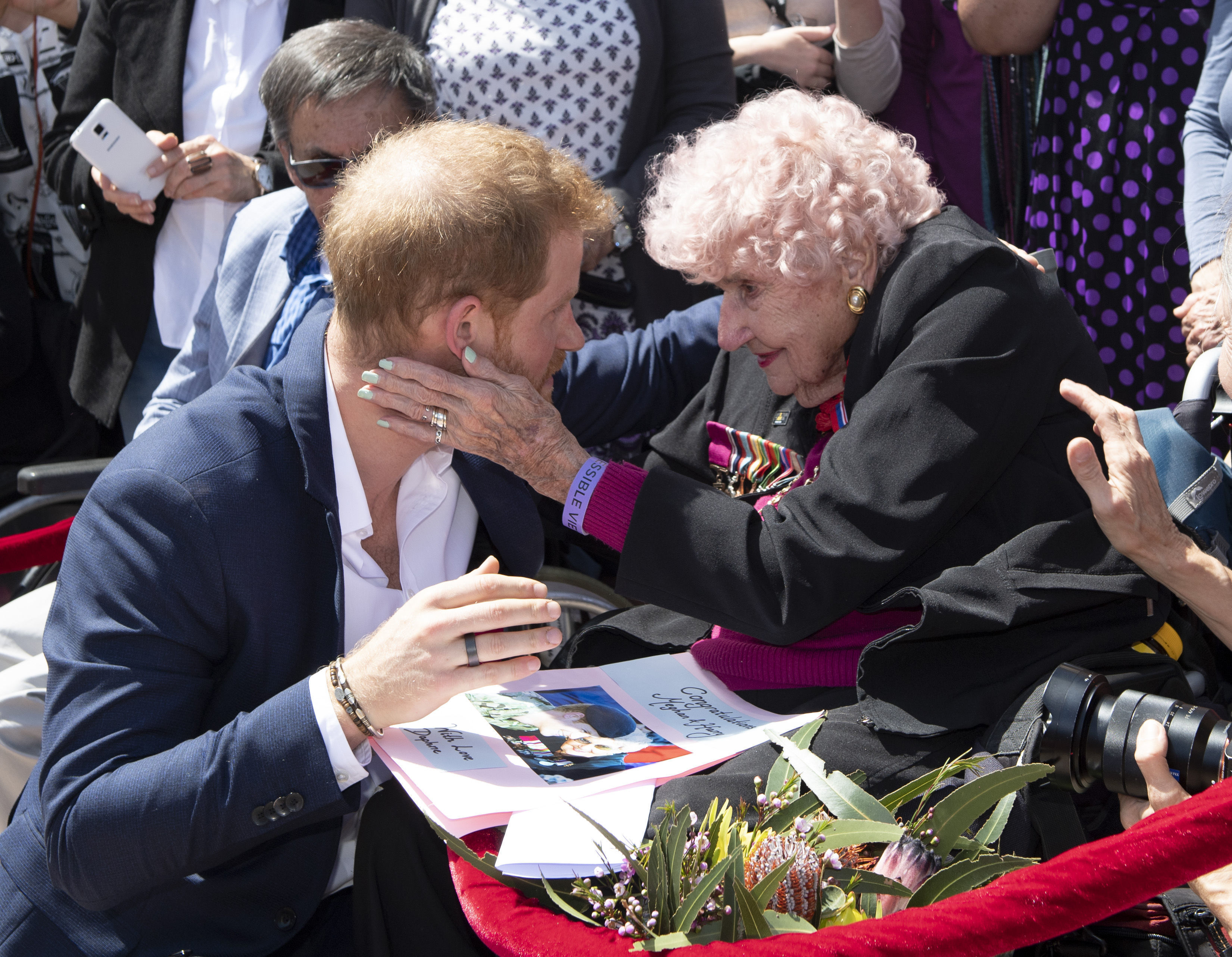 But Daphne is not the only royal fan who met the now Duke of Sussex for the third time yesterday…Another Aussie who received the royal trifecta was our very own Intern Pete. Although his encounter was definitely not so sweet.
Intern Pete Royally Embarrasses Himself In Front Of Prince Harry And Meghan Markle
While Harry had a special reunion with the war widow, Pete had to fight to grasp Prince Harry's attention. And when he finally got it, he was left feeling just slightly embarrassed.
Luckily for us it was all caught on camera and Jackie decided to play the audio on air this morning during her O News.
"He [Pete] did actually get greeted by Prince Harry but he was a little disappointed because he thought Harry would remember him from the times before," said Jackie.
In the audio, Pete can be heard calling out to Harry like an ultimate fangirl before embarrassing himself massively when the royal didn't remember him.
"Hey Harry! Hey Harry! Harry, Harry, Harry, it's me! Intern Pete! I talk to you every year. Kyle and Jackie O wanted to be the first to say congratulations on becoming a father," Pete is heard saying.
"Nice to meet you," replies Harry.
"Yeah we've met a few times now. Do you remember me?" replied Pete.
But nope, that's all that Harry said to him! Liklihood is that Harry's tried to block his past meeting with Pete from his memories…Don't even get us started on 'The Floor Is Lava' incident from last time…
But it didn't end there! Pete then managed to greet Meghan Markle as she walked past with premier Gladys Berejiklian. And though Gladys is a great friend of the show, Intern Pete was snubbed once again.
"Hey Meghan, I'm Pete, I'm one of Glady's best friends," said Pete before Gladys cut him off and corrected him by saying, "He's a radio personality". Not her BFF… Oh Pete!
As if that wasn't cringe enough, Pete went on the defence today and maintained that his meeting with Meghan and Harry wasn't as terrible as everyone was making it out to be.
"I think someone called it a royal disaster, and I was like well okay this is getting a little bit out of hand," explained Pete to Kyle and Jackie.
"I mean apart from the old grandma in the wheel chair I'm the only person that's met Prince Harry in Australia three times now, because Glady's only met him twice."
Yeah sorry to break it to you Pete but your experiences with Prince Harry, such as the time he told the Royal that "the floor is lava", in no way compares to the personal moments that Daphne has had with him… Maybe we should get her to be our royal correspondent next time?
Love this? You'll love this bit from Will & Woody – catch the boys weekdays from 4PM on KIIS 1065