Could the ultimate momager be heading down the aisle with her boyfriend Corey Gamble sometime soon? If her latest appearance on The Late Late Show with James Corden is anything to go by, it certainly looks that way!
Kris Jenner appeared on Tuesday's episode of the talk show to promote the latest season of Keeping Up With The Kardashians when she was grilled with some tough questions over one of our fav games, Spill Your Guts or Fill Your Guts.
In case you've never seen the segment, basically the game sees mega stars faced with a tough decision: either answer a series of questions or rumours that they may not really want to divulge information about, or eat one of the DISGUSTING items on offer, which in Kris' case included things like a bull penis, a cow tongue and a 1,000-year-old egg.
And while any of those items would have us spilling our deepest and darkest secrets all over the place because ain't no way any of those things would enter our mouths, the momager proved that she can handle more than just the careers of her daughters.
For instance, Kris chose to drink a swig from a sardine smoothie instead of answering when James asked her which of her daughter's she would cut from their reality series if she had to choose one.
She said that she "couldn't have gone home" if she'd answered the tough question and that her daughter's "wouldn't have understood" if she had named one of them.
But while we were unsurprised at Kris' allegiance to her tight-knit family, what was much, MUCH more surprising was her reaction to the last question on James Corden's list.
The talk show host offered up a bunch of tiny crickets to the reality star and posed her this question:
"Kris, you've been spotted wearing a massive diamond ring on your wedding finger," said James. "Are you and Corey Gamble engaged?"
Holy Kardashian that's a GOOD question! After all, Kris' options were to either answer the question honestly and let us know once and for all or eat the crickets and make people assume that she's 100% engaged and just didn't want to answer!
Initially Kris replied "no", as she stared long and hard at the crickets sitting in front of her. James wouldn't give up though and he continued asking, "Do you mean 'no, you're not going to answer', or 'no?'"
Kris replied saying that she meant no she wouldn't answer when suddenly the camera panned to her loving BF Corey on the side of the stage, who's smile was bigger than Kris' wardrobe (and trust us that's pretty darn big).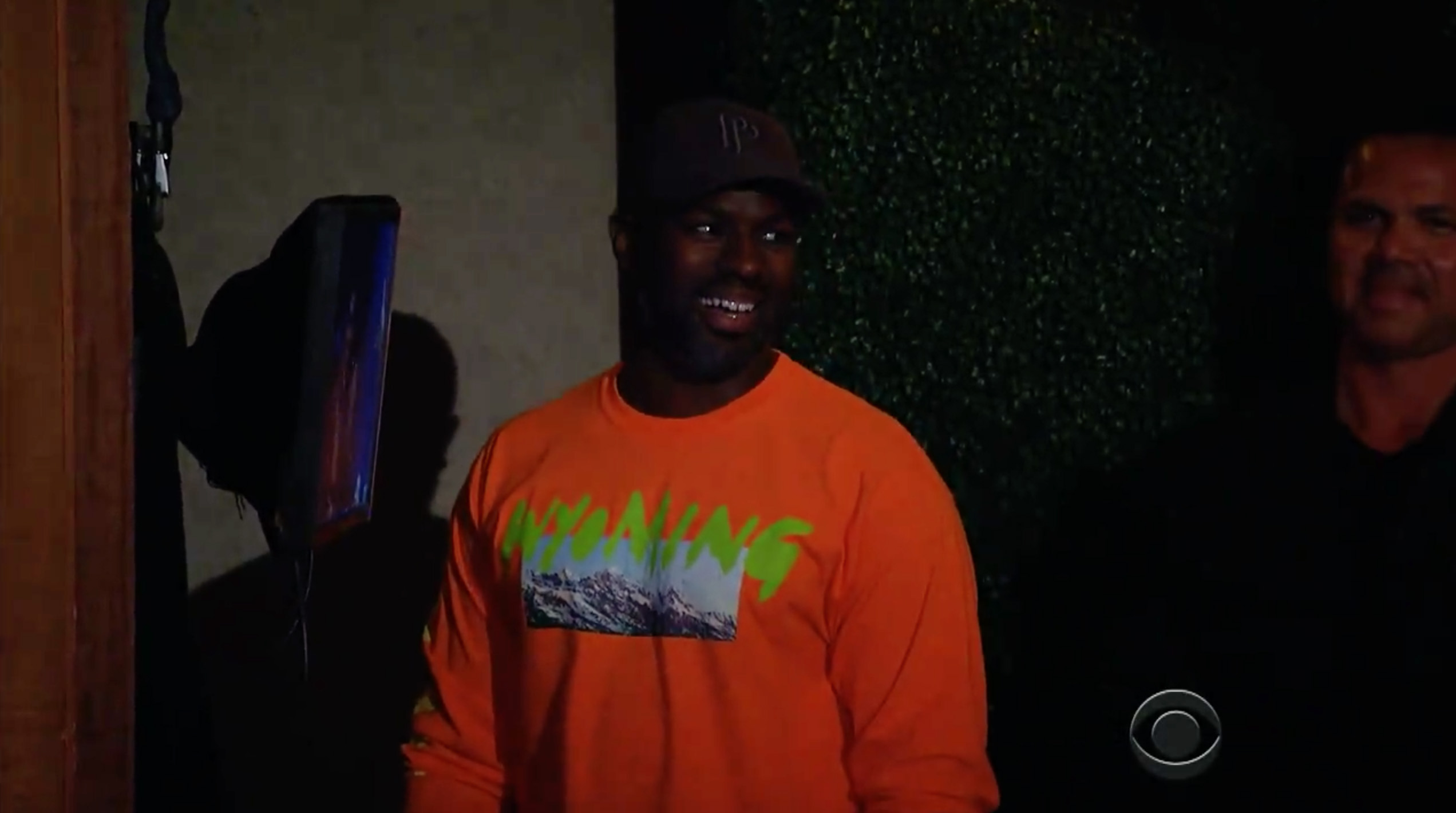 And things just continued to go from bad, to worse, for Kris anyway…it was AMAZING for us watching at home!
"The ring's right there, it's a real giveaway," James continued to point out. In case you don't know what ring we're talking about, it's this one right here: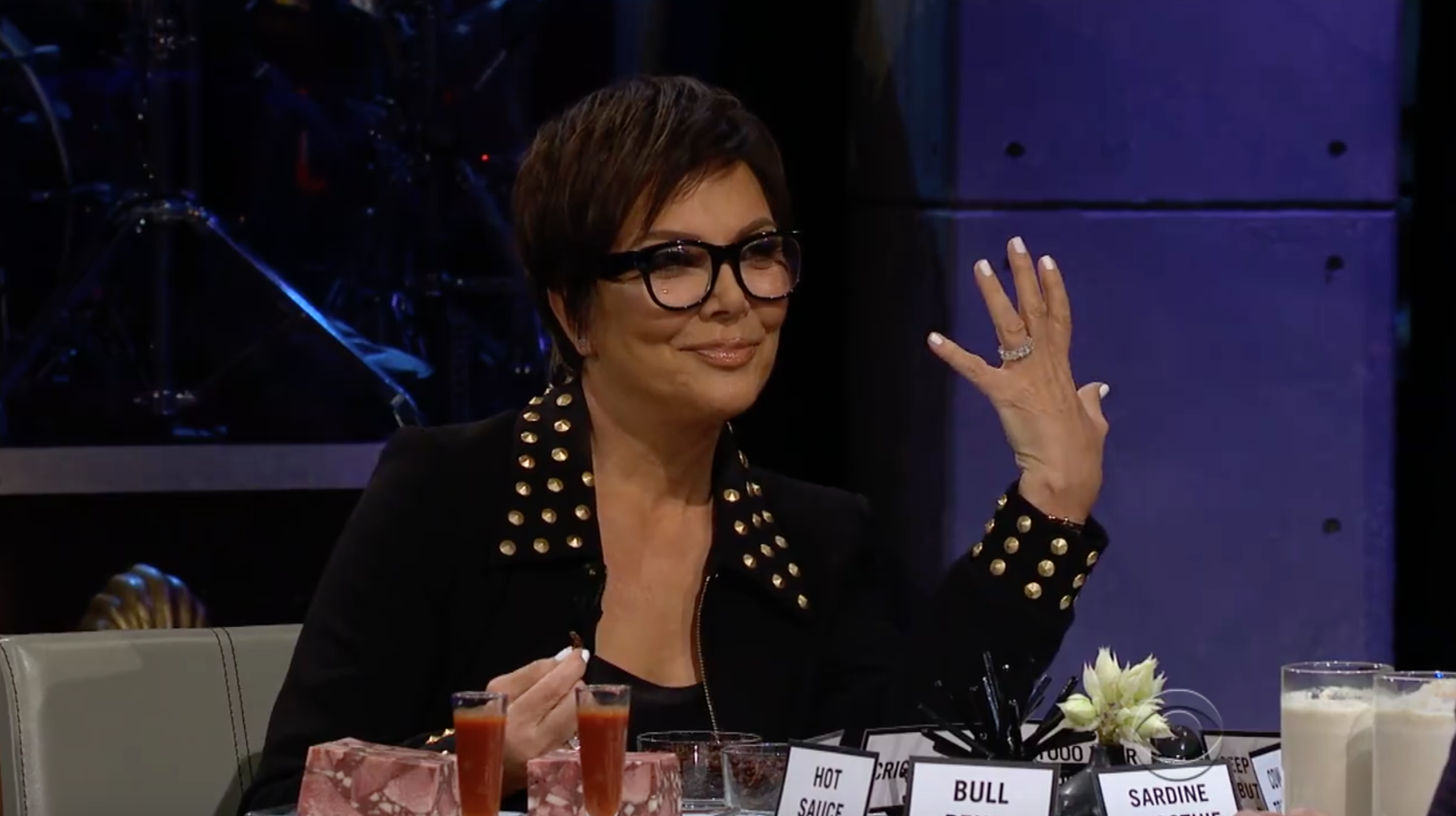 "This isn't the ring," Kris replied, to which of course James cheekily said, "But there is a ring!"
Finally, Kris had clearly given up on talking her way out of this one and she admitted defeat by taking a bite out of one of the crickets.
Take all of this however you like, but if she wasn't engaged, wouldn't she have just said flat out 'NO' to the original questions?
But knowing Momager Kris, this is likely all part of one of her massive plans to help sell some new lip kit collection or makeup line. She's ALWAYS got the upper hand (even if that hand's got a ring on it!)
Love this? You'll love this bit from Will & Woody – catch the boys weekdays from 4PM on KIIS 1065