It was a partnership over four decades in the making, but the split of Kermit The Frog and Miss Piggy was a shock to everyone.
Although the official statement from both parties stated it was Miss Piggy's decision, it seems the green frog has already moved on from the diva…
Here is the official statement from @RealMissPiggy and myself regarding our relationship: pic.twitter.com/uHCSsokqWR

— Kermit the Frog (@KermitTheFrog) August 4, 2015
Kermit's new relationship is with Denise, also a pig, who works in the publicity department on The Muppet Show.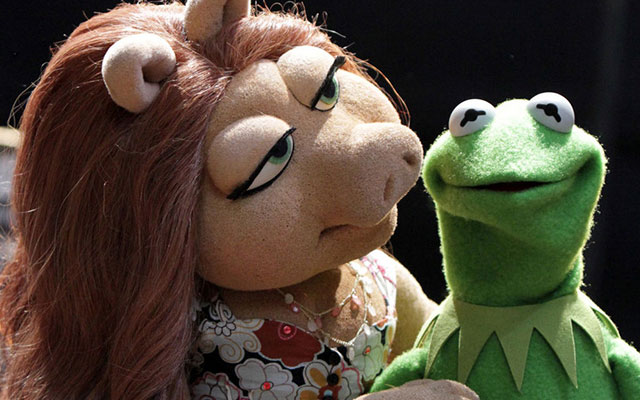 Denise with Kermit The Frog
Kermit admitted over Twitter that she is "sweet".
.@emmyrossum Hi-ho, Emmy! Unfortunately, I'm seeing someone else… Denise. She's in publicity at the network. She's sweet, you'd like her!

— Kermit the Frog (@KermitTheFrog) August 4, 2015
He also opened up to E! News about what attracts him to pigs.
"It's the curly tail," he said.
"It's fascinating. I don't know why is makes a difference to frogs, but it's pretty cool."
He also told them:
"It's an interesting thing that happens sometimes – you're with someone for years, and you suddenly discover that you have gone in two different directions.
"And when you're a frog and a pig, those directions can be extreme."
Miss Piggy has been dispelling rumours that it's all a publicity stunt, and dealing with the break-up the only way she knows how – ice cream!
.@Alancumming Oh, dear Alan… As much as moi loves a good publicity stunt, this is not one! Let your cute, single friends know, 'kay?

— Miss Piggy (@RealMissPiggy) August 5, 2015
Moi appreciates all the support after yesterday's news. But what moi would REALLY appreciate is some ice cream. And gift baskets. Thanks!!

— Miss Piggy (@RealMissPiggy) August 5, 2015
With their new Muppet Show coming up, they are expected to remain professional through filming – but knowing their tumultuous relationship, who knows?
H/T Metro
Photos: The Muppets
Love this? You'll love this bit from Will & Woody – catch the boys weekdays from 4PM on KIIS 1065