Unless you've been living under a rock you'll know Kim Kardashian pretty much destroyed Taylor Swift this week.
Kim released a tape allegedly showing Kanye chatting to Taylor on the phone, discussing Taylor's name being used in Kanye's song Famous.
Taylor is laughing about it and agreeing to it, something she later denied she had done.
There was a full on war of words following the release of the tape from nearly every Kardashian and a bunch of celebs who Taylor counts as friends.
Us reacting to Kim's snapchat story #KimExposedTaylorSwift pic.twitter.com/doqUDKRAL8

— Abbie (@abbie_8174) 20 July 2016
But Kendall Jenner remained pretty quiet about the whole thing.
She's been put in a really awkward position because, well Kim is family, and so is Kanye but Kendall was once BFFs with Taylor and is still tight with a bunch of girls in Taylor's squad.
However it looks like blood is thicker than water in this case and Kendall has come down firmly on the side of her family.
The model didn't voice her opinion exactly but she has been hearting Anti Taylor Tweets from Kim, Khloe and Hailey Baldwin.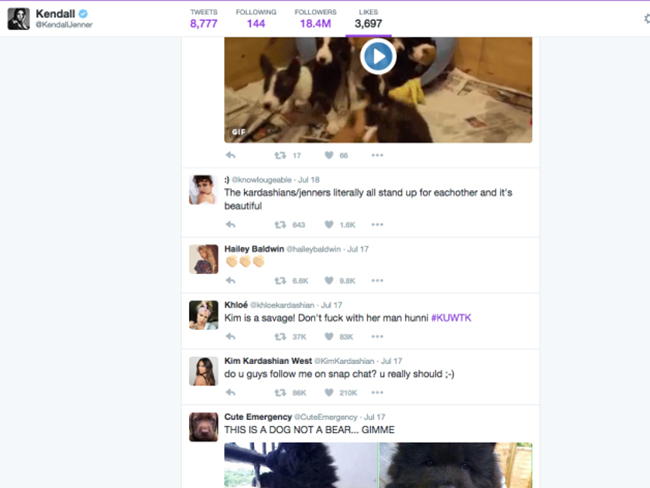 And so this drama continues….
Source Cosmopolitan
Love this? You'll love this bit from Will & Woody – catch the boys weekdays from 4PM on KIIS 1065