The bloke who decked a kangaroo to save his dog has been immortalised with some fresh-pressed graffiti.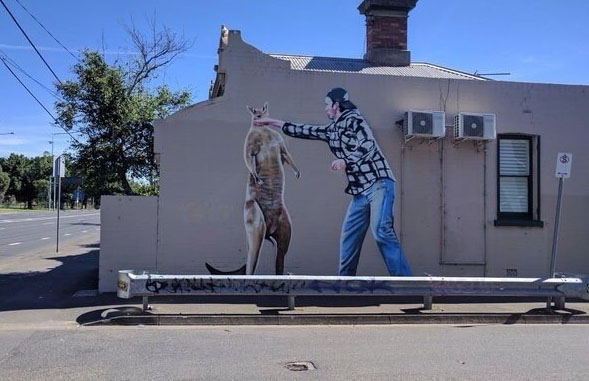 Greig Tonkins made headlines earlier this month when footage of the incident went viral.
Tonkins was captured running towards his dog Max, who was being held in a headlock by the kangaroo.
By the time he got to the kangaroo, it had let the dog go, but had turned its attention to Tonkins. In a tense moment, Tonkins raised his fists before punching the kangaroo in the face.
The video has been viewed more than six million times.
It's understood the artist is @lushsux, who was behind the 'sexy Hillary Clinton', which was censored after it received international attention…
….and the 'Taylor Swift memorial', which was sprayed over after a legal threat.
"A beautiful tribute to a great Australian" was one of the hundreds of comments on Instagram.
"This guy saved his dog by going toe to toe with kangaroo who had his dog in a headlock, literally. FYI, animal handler too," was another.
And they're right; some media claimed Tonkins should lose his job as a zookeeper as a result of the incident, while PETA called for him to be prosecuted.
Taronga Western Plains Zoo, where Tonkins works as an elephant keeper, however confirmed last week he was not in any danger of losing his job.
If you're in Melbourne, it's on the corner of Kelso and Punt Roads in Richmond.
Love this? You'll love this bit from Will & Woody – catch the boys weekdays from 4PM on KIIS 1065