Appearing on the red carpet at the Helpmann Awards last night, Kerri-Anne Kennerley has spoken out in support of Sonia Kruger after she received widespread criticism following her comments on Channel Nine's Today Extra last week calling for a blanket ban on Muslim immigration.
Kennerley encouraged Kruger to "stay brave" after her controversial comments made headlines and have allegedly resulted in her receiving death threats.
Speaking to The Daily Mail KAK said:
"This is just appalling beyond belief"
"I think it's appalling — with freedom of speech — where people have an opinion and everybody else finds the need to slam someone."
"We are living in a democratic country. We do need people to have varying opinions and it should be treated with respect so therefore everybody should have their freedom of expression."
It's also been alleged that rival networks have warned their high profile presenters to avoid any public comments in regards to Kruger's comments.
Speaking on TV the day after she called for our borders to be closed she then said:
"I acknowledge my views yesterday may have been extreme. The reaction overnight in the papers, online and via social media demonstrates that there are a myriad of opinions in Australia which I actually appreciate. It is a hugely complex and sensitive issue. It's an issue with no simple answer. And it's an issue that cannot be fully discussed in a short televised segment."
In the wake of her comments, it's understood Target has distanced themselves from Kruger who is an ambassador of the department store.
But the people of Facebook are calling a boycott on Target, arguing for freedom of speech.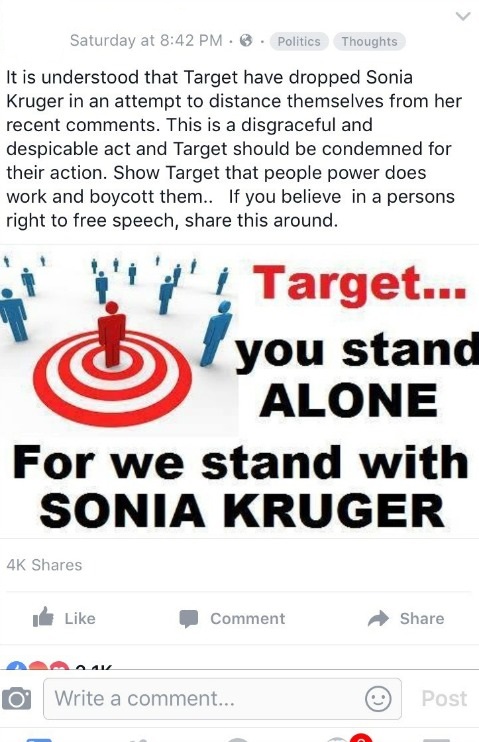 The post has been shared thousands of times.
Want more? Get more from Kyle & Jackie O!