If you're not a fan or don't know of Jeffree Star all you need to know is he has become INSANELY rich from his makeup line, he is self made and he is batsh** insane.
You can get your fill of Jeffree on his Youtube channel and if you want a quick summary of him as a person, I can personally recommend Youtuber Shane Dawson's 'documentary' of his life which you can find right here!
ANYWAY JEFFREE has been dropping amazing eyeshadow palettes left, right and centre and his newest one has caused a lot of controversy.
Dropping a palette that is 'death themed' called 'CREMATED' in the midst of the global pandemic that has led to over 90, 000 deaths in the States alone is a CHOICE.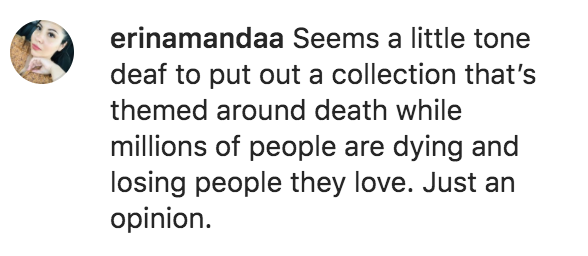 BUT that being said, people need to understand that these palettes don't get made in a day, the units were probably already finished and shipped before the pandemic even started.
⚱️ The #Cremated Collection is all about tapping into your dark desires and exploring another side of yourself. 🖤 pic.twitter.com/MBX6vj9o7M

— Jeffree Star (@JeffreeStar) May 17, 2020
I mean…the palette looks dope as hell, you can do anything from goth to glam (hire me Jeffree).
Explaining the meaning of the name in his reveal video, "Cremated is like my iconic catchphrase, I'm deceased…You know when you're really blown away by something, you're mesmerised and it's so sickening? Me and my friends love to say, bi***, I'm cremated. Baby, I'm deceased."
The inside of the #CREMATED palette 🖤 24 shades. Retail: $58 🕊 The entire collection will be launching MAY 22ND @ 10AM PST / 1PM EST ⚱️ #jeffreestarcosmetics #crematedpalette pic.twitter.com/EtzoJBoE7E

— Jeffree Star (@JeffreeStar) May 16, 2020
That is a phrase I'm definitely picking up… but Jeffree Star has had to defend himself against the complaints against him.
He popped off on Instagram in classic Jeffree fashion "It is allowed to be interpreted any way that anyone wants to take it but I always come from a good place and this palette is fucking sickening."
And you know what? Is he wrong? Are people being a bit too sensitive?
Love this? You'll love this bit from Will & Woody – catch the boys weekdays from 4PM on KIIS 1065