Attention all Optus customers.
There is an email scam that is being circulated, and targeting Optus customers.
According to Mailguard, the emails appear to be sent from optusnet.com.au, so they are fooling some customers.
In a blog post, Mailguard has spoken about the scam.
"The format of these emails is similar, with most appearing in plain-text form.
They advise the recipient of a document that is available for them, with a link to access the said document. In most cases, the links lead unsuspecting recipients to a malicious file download."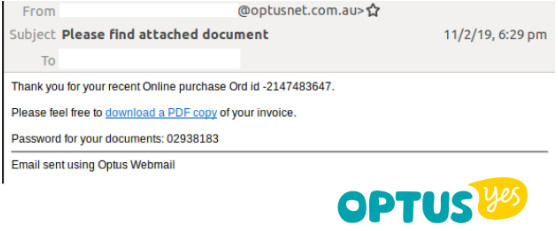 Make sure you stay vigilant when it comes to communications from your service providers. Be wary of attachments – especially when they are ZIP files.
If the company is sending you an invoice or bill, it should always be a PDF.
When in doubt, give the company a call, to check the legitimacy if the email.
Love this? You'll love this bit from Will & Woody – catch the boys weekdays from 4PM on KIIS 1065