Oh wow, wedding season is around the corner – and it's come along fast, those invites for October and November weddings are sure to start firing in soon, and if you're any sort of friend, you'll let your pal who's getting hitched know about how easy it is to create their OWN wedding snapchat filter for all of their guests to use!
Jenny Forrest, founder of OverMoment.com, a site that specialises in making custom snapchat filters for special events, spoke to the guys at Bustle, to discover how to get it done for a big day.
"Snapchat filters are the 2016 version of the Photo Booth," she tells Bustle.
"They are a fun and memorable way to engage your guests, without breaking the bank."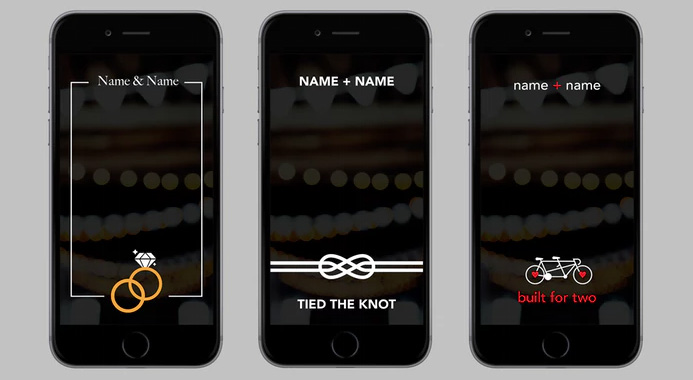 If you're on a budget you can choose to personalise one of the pre-designed templates for $US19.99 – or you could get one made-to-order for $US69.99.
The only additional cost is submitting the filter to snapchat for approval, which could be as little as $US5, but varies according to venue size.
The only other things to keep in mind? You need to follow a few basic rules, like no hashtags, logos to photos – but you can choose whatever you take photos of on the day, though!
Forrest's biggest pieces of advice when customising your filter?
Keep it consistent with your party's colour scheme, and leave some room for the photo to shine through — make it utilise the top and bottom of the screen, but don't have it be overwhelmingly large.
Other than that, you can do whatever your heart desires to create a fun filter for your wedding guests to use on your big day.
Source: Bustle
Love this? You'll love this bit from Will & Woody – catch the boys weekdays from 4PM on KIIS 1065