It might be barely Spring but we're about to see some sunny weather that could rival the days of early Summer!
That's right Sydney, get ready to defrost after a freezing winter because parts of the city are expected to hit temperatures today and tomorrow in the high 20s and even close to 30C in some areas.
Today is expected to be a bit of a tester for the warmer weather due to hit tomorrow with Sydney only expected to hit tops of 23C while areas like Penrith and Richmond will hit highs of 27C according to the Bureau of Meteorology.
Parramatta and Campbelltown will get up to 25C today and with the warm and dry conditions as well as light winds there's a high fire danger around most parts of the state.
A warm next few days forecast: temps in the mid-high 20s for much of NSW and up around 30C in the far west. A dry and gusty front will cross the state Tue & Wed, with possible raised #dust in the far west tomorrow.
Check the forecast near you on Meteye: https://t.co/EiK7PmRRvb pic.twitter.com/BjcrmB2r3Q

— Bureau of Meteorology, New South Wales (@BOM_NSW) September 10, 2018
Tomorrow is expected to heat up even more with temperatures hitting those typically seen in early Summer. The Bureau of Meteorology is reporting that Sydney will hit a maximum of 28C while the highest temperatures will be found in Penrith and Richmond, reaching up to 29C!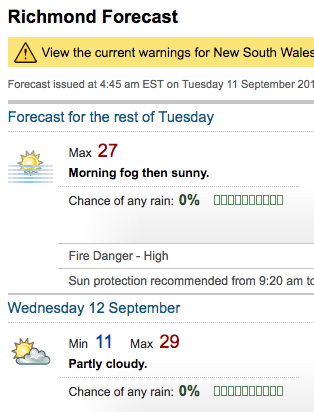 We're expected to see much of the same for the rest of the week according to the forecast with the sunny and warm temperatures expected to set in for a while before dropping back down to cooler temperatures on Sunday.
So put away your jumpers and get out your swimmers Sydney! No need to count down the days until Summer anymore with Summer-like weather about to arrive!
This comes as Australia has been experiencing one of the worst droughts in history with dry conditions and very little rain leaving rural farming areas in strife.
Love this? You'll love this bit from Will & Woody – catch the boys weekdays from 4PM on KIIS 1065