Gwyneth Paltrow's teenage daughter, Apple, is not too proud to take a selfie with her famous mother — under one condition.
But you know what they say, Mum's gonna Mum.
This was the case when the mother-daughter pair hit the slopes earlier this week. While enjoying a chairlift, the actress decided to whip out her cellphone and snap a picture with her 14-year-old, who sports reflective ski goggles and a not-so-thrilled grin on her face unlike her mother's bare face and carefree smile in the photograph, which the Avengers: Endgame star captioned with "🍎⛷❤️."
Much to Apple's embarrassment, however, Paltrow went on to share the picture to her 5+ million followers on Instagram, prompting the teen to leave a hilariously sassy response in her mom's comments.
"Mom we have discussed this. You may not post anything without my consent," Apple wrote beneath the picture, to which the Goop founder gave the nonchalant reply, "@applemartin You can't even see your face!"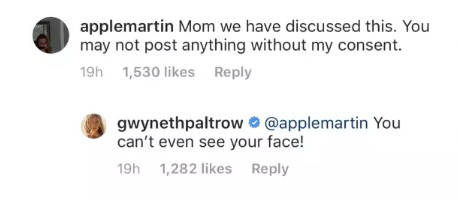 Despite breaching their mother-daughter photo-op contract, all of Paltrow's famous friends had nothing but sweet things to say about the adorable moment.
"Sweet XXX," wrote actress Jennifer Garner. Singer Kelly Rowland also approved the pic, adding, "Hey Lovely Gwen! Look at your gorgeous Apple!" with fitness guru Tracy Anderson concurring with, "Penny and I are in sync with you two mommy daughter beauties!"
Article: Paris Close
Love this? You'll love this bit from Will & Woody – catch the boys weekdays from 4PM on KIIS 1065