Google has been forced to apologise after their auto-tagging feature mistook two African-American people for Gorillas.
The search engine giant has introduced a Google Photos app that auto-tags photos to help organise uploaded images.
Unfortunately, Jacky Alcine didn't find the app helpful at all, after it auto-tagged his selfies with a friend with 'gorillas'.
The computer programmer from Brooklyn, New York, is of Haitian descent and tweeted this: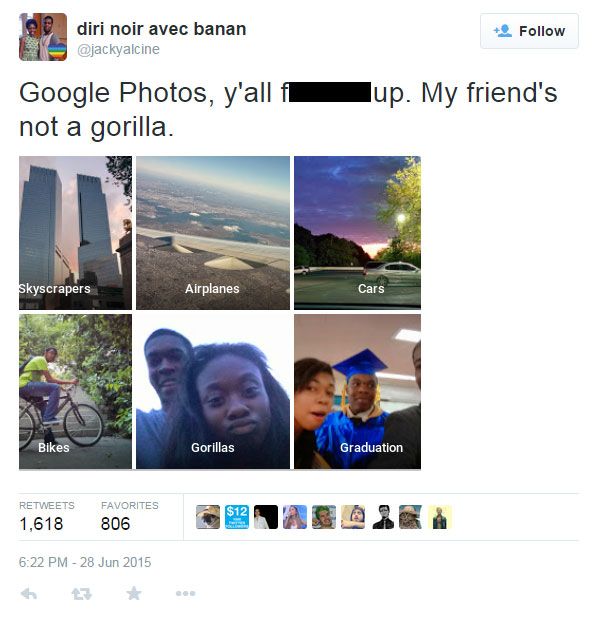 Within hours he received a response from Google's chief social architect, Yonatan Zunger.
He promised to fix the facial recognition bug.
.@jackyalcine We've got a fix rolling out into prod now; ETA of a few hours for it to be fully live.

— Yonatan Zunger (@yonatanzunger) June 29, 2015
He confirmed that the 'gorilla' tag would be removed, but said on his Twitter that "lots still (needs) to be done" to fix the algorithm.
"We're also working on longer-term fixes around both linguistics (words to be careful about in photos of people) and image recognition itself (eg better recognition of dark-skinned faces)," he wrote.
Google released a statement apologising for the embarrassing glitch in their algorithm.
"We're appalled and genuinely sorry that this happened. We are taking immediate action to prevent this type of result from appearing.
"There is still clearly a lot of work to do with automatic image labelling, and we're looking at how we can prevent these types of mistakes from happening in the future."
H/T News.com.au
Love this? You'll love this bit from Will & Woody – catch the boys weekdays from 4PM on KIIS 1065