Seeing a screenshot of Donald Trump's website with "HILLARY WINS" emblazoned across the top is the last thing we expected to see today – let's face it, even if Trump does lose the election, it's doubtful he will easily admit defeat.
Embarrassing glitch hits Trump website https://t.co/rxYH4BW1R7

— Paul Syvret (@PSyvret) November 9, 2016
But a glitch on his official website www.donaldjtrump.com allowed users to do just that.
A basic coding hack saw the general public add a broad range of statements and criticisms of Trump and his policies, we think our favourite is Carrot J McCarrotface… although some were at least a little bit more intelligent.
My contribution to the Trump website glitch. #ElectionNight pic.twitter.com/SCPY7FeZKo

— Will Wilshere (@WillWilshere) November 8, 2016
Seriously, whoever made Donald Trump's website should be ashamed of themselves. This is SO EMBARRASSING https://t.co/LiQ3s328Yu pic.twitter.com/bXG0mbesbv

— Shoshana Weissmann (@senatorshoshana) November 8, 2016
@senatorshoshana https://t.co/YL1UQ0rFpA /cc @darth pic.twitter.com/IvKFDZQED7

— Louis Gray (@louisgray) November 8, 2016
Others went the more creative route.
You too can put a random headline on the press releases of Trump's official website. https://t.co/pPtLIKIk7h (h/t @csoghoian) pic.twitter.com/HPhhmakCFI

— Lorenzo Franceschi-B (@lorenzoFB) November 8, 2016
It's the little things in life that mean the most. Like a glitch in #Trump's website that let you change the banner message! pic.twitter.com/2t3dDkxUDc

— Lauren E. 🐧🏒 (@SteelPenguin87) November 8, 2016
Trump's website had a glitch that would make it say whatever you'd like https://t.co/OwRmsgTYC1 #ElectionNight pic.twitter.com/nYmcqkYAEv

— Mashable (@mashable) November 9, 2016
lmao the trump website glitch actually works https://t.co/J1Xs2l88JJ pic.twitter.com/Cq5iVp4V8j

— gloria ✨ (@iceicegibby) November 8, 2016
Either way, it gave us a whole lot of entertainment…
Donald Trump Website Glitch! https://t.co/Q8OJFgcJmZ pic.twitter.com/DioCF5iN1r

— Nasty Hombre (@franklinftw) November 8, 2016
Someone hacked Trump's website and left a poop emoji on it https://t.co/qJJGgRNxue pic.twitter.com/IRNCg0Fw55

— Slate (@Slate) November 8, 2016
And then of course there is this…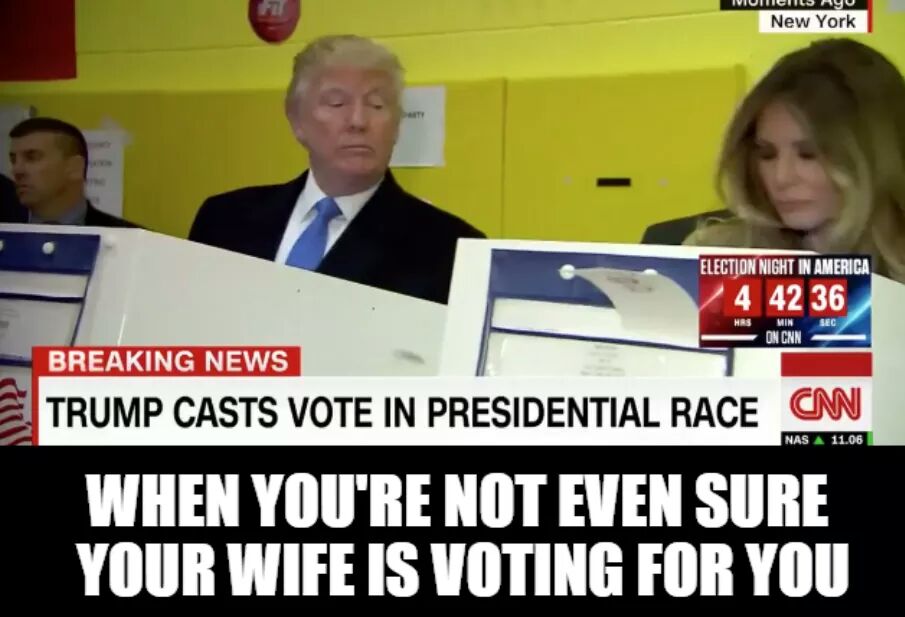 A meme doing the rounds this morning showed Donald Trump sneaking a peek at his wife, Melania's, ballot card – just to make sure she was in fact voting for him.
The Trump website glitch is the greatest thing to ever happen.https://t.co/jmNzhBL2PA pic.twitter.com/HUiwsXCLtt

— Megan Thompson (@MeganThompson) November 8, 2016
Sadly, the Trump web developers cottoned onto the glitch and have since removed the Press Release page that allowed the edits.
But it was good while it lasted…
Love this? You'll love this bit from Will & Woody – catch the boys weekdays from 4PM on KIIS 1065