Sometimes, just sometimes, people can get it very wrong – and unfortunately Chloe Ferry got it pretty wrong, according to many.
The Geordie Shore star has been branded 'shameless' after posting a photo of herself with her nan, who appears to have passed away, in her hospital bed.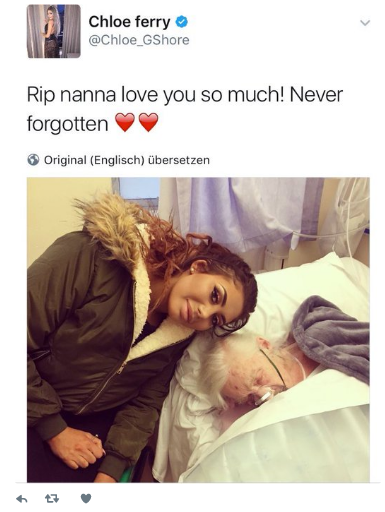 am i tripping or did chloe ferry just tweet then delete a picture of her with her dead nan next to her

— hanné (@hanlouisewilman) January 1, 2017
I see Chloe Ferry has deleted the picture of her dead nan. What a strange idea that was

— 🤙🏻Shanta Griezmann (@jamie95mufc) January 1, 2017
The 21-year-old has received a heap of backlash from her followers and swiftly deleted the snap. One user wrote: "Literally f*cking shameless… f*cking hell."
can someone explain to is why Chloe Ferry took a picture with a dead nan and posted it on insta

— Yung Turk (@TalyaKurt) January 1, 2017
Some people believe people should be free to grieve how they see fit, what do you think?
Source: The Lad Bible
Want more? Get more from Kyle & Jackie O!