New details have surfaced surrounding Gabi Grecko's injuries that prompted her hospital stay last month, shedding a whole new light on the situation.
In an exclusive with The Daily Mail, Grecko admits that her injuries were not sustained from falling down stairs and that is not the reason for her miscarriage.
Rather, the 26-year-old, opened up about her daily struggle with severe depression and bravely admitted that the injuries were self inflicted.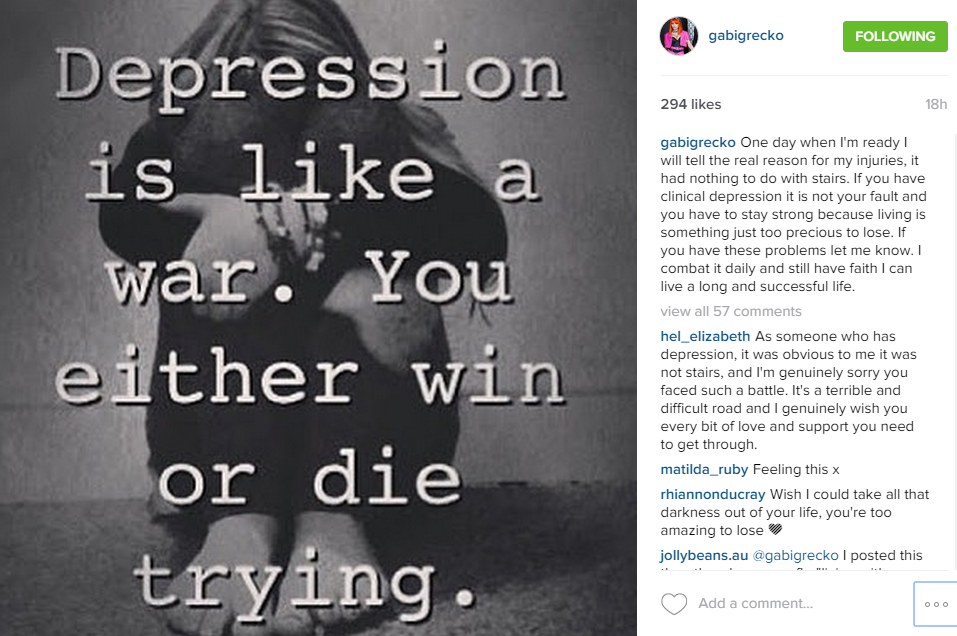 But she insists that she was pregnant with husband Geoff Edelesten's baby and that the miscarriage was not fabricated.
While the details are yet to be commented on, the implications are that Gabi has been struggling and they external criticism – especially during her hospital stay – is more than white noise.
The negativity being posted on her Instagram account at the time forced her to remove her account and only return to the social media platform with a private account.
"It wasn't an accident. I'm not ready to tell the whole story yet," Gabi told The Daily Mail on the set of Channel 9's Celebrity Apprentice.
"I had been going through a deep depression. I survived and I'm really lucky.
"I definitely was pregnant. The way I sustained those injuries, a lot of damage was done to my body.
"I couldn't walk. My whole body was in pain. I was really weak with bruises covering my whole body. My ribs were broken and my lungs had collapsed."
Grecko claimed that her husband Geoff 'tried to help' – although the cloud surrounding the situation and injuries prevents a real picture of the situation being painted.
"People started accusing me of lying about the pregnancy but I wasn't," she continued.
"If they understood what happened… There was a lot of negative people.
"People saying 'she's not upset'. People were mean."
Posting to instagram, Grecko gave little away.
"One day when I'm ready I will tell the real reason for my injuries, it had nothing to do with stairs," she wrote.
"If you have clinical depression it is not your fault and you have to stay strong because living is something just too precious to lose. If you have these problems let me know.
"I combat it daily and still have faith I can live a long and successful life."
We hope she gets the help and support she needs.
Images: Instagram
Want more? Get more from Kyle & Jackie O!