GGGGGIDDY-UP! Funko, the company that creates the adorable Pop Vinyl collectibles have just released the first images of their new collection: SEINFELD!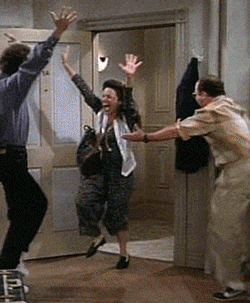 Anything small, collectible, and based on our favourite shows is bloody adorable and we need all of them.
As one of the most recognised and popular shows, they're releasing all your favourites: Jerry, Elaine, George and Kramer
#Seinfeld goes Pop! First look at Funko's latest toy line — including virtual 3-D Jerry, George, Kramer and Elaine figures https://t.co/mkYQ8mTwC5 @OriginalFunko pic.twitter.com/D4foTyTz2M

— Yahoo Entertainment (@YahooEnt) March 15, 2021
Funko sculpting director Darcy Harlan told Yahoo Entertainment "We try to treat every series with the amount of care and love that it deserves for the fans, and it just happened to blend beautifully with our teams' love for Seinfeld as well."
So much detail has been put into the figures such as Jerry's wearing his classic vintage puffy shirt, the right height and volume of Kramer's hair, Elaine's notable glasses and George's uh…receding hairline.
But the icing on the cake is the "no soup for you" Yev Kassem figure. He's even pouring soup!
There's a bunch of different versions along as T-shirts, backpacks, wallets, glassware and a new party game being released on June 1 in the US and hopefully landing on Australian shores soon after.
Love this? You'll love this bit from Will & Woody – catch the boys weekdays from 4PM on KIIS 1065