It's safe to say that this year's Married At First Sight participants make last year's newlyweds look like absolute angels, but it appears a former star has come to the defence of one of this year's grooms.
2018's MAFS 'villain' Dean Wells took to Clementine Ford's Instagram to defend Sam's hostility to his TV bride, Elizabeth Sobinoff.
"Cannot wait for Lizzy to destroy this walking sewerage pipe [Sam] on national TV," Clementine Ford wrote in an Instagram post.
"So I guess you just watched Sam at the commitment ceremony Clem… The poor dude doesn't wanna be there," Dean responded.
"Some girls really need to read He's Just Not That Into You."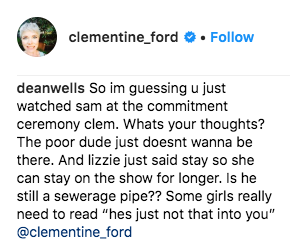 This isn't the first time the former MAFS star has spoken out against the way show producers and editors manipulate public perception.
"You might as well be booing and hissing at the baddy in a bloody WWE wrestling match. That probs would be a little less staged," he wrote.
"You have absolutely no idea what they have edited out and how they have manipulated it. Liz may have said ten times worse in real life but they cut it out.
'That's exactly what happened on my season."
If you missed it, 26-year-old Sam openly criticised his new wife's weight when he met her at the altar.
"I've never really dated girls as big as Elizabeth in the past, to be honest," he said.
Just 24 hours later, he flew to New Zealand to attend the funeral of his ex-girlfriend's mother. Despite Elizabeth's multiple voicemail messages, Sam ignored them all, claiming he doesn't have voicemail. He reappeared five days later at the first dinner party.
Love this? You'll love this bit from Will & Woody – catch the boys weekdays from 4PM on KIIS 1065